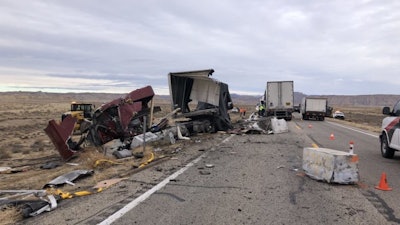 Utah State Police
Drivers of two tractor-trailers that collided in Utah in the early morning hours of Monday, Dec. 13. died at the scene.
Utah State Police report the accident occurred on SR-191 just south of Interstate 70 at 4:35 a.m. Troopers say a northbound International was near milepost 154 when it drifted across the center line into southbound traffic. It struck a southbound Kenworth.
The driver on the International is said to have died on impact. The Kenworth's driver died as a rescue helicopter was en route.
The police continue their investigation.
GOP senators want cross-border drivers exempt from vax mandate
Fourteen Senators -- all Republicans -- on Dec. 10 penned a letter to President Joe Biden asking the administration to work with Canada to exempt truck drivers from cross-border COVID-19 vaccine mandates that are set to take effect in both countries in January.
The compliance date for American drivers entering Canada is January 15. The expected compliance date for Canadian drivers entering the U.S. is January 22' though that has not yet been formally announced.
"In the coming weeks, both the U.S. and Canada intend to implement vaccination requirements on foreign truck drivers," the senators wrote. "Despite the good intentions underpinning this action, we fear that the imposition of vaccination mandates as a requirement to cross the land border will exacerbate the existing challenges facing our freight networks and supply chain, and could further fuel inflation and rising prices on top of what Americans are already seeing. Our nation's truck drivers worked diligently during the pandemic to facilitate critical cross-border freight movements that helped to feed and clothe American communities. Now, implementing these policies could cost them their jobs."
The Senators noted that while both countries intend to enact the mandate on foreign truck drivers, "neither country has imposed such a requirement on solo truck drivers who operate domestically."
55 people die in immigrant smuggling crash
Fifty-five people died and more than 100 were injured when a tractor-trailer loaded with migrants headed toward the U.S. crashed into the base of the steel pedestrian bridge Thursday, Dec. 9 in Tuxtla Gutierrez, Mexico. It's estimated about 250 migrants were in the 53-foot trailer at the time of the crash.
A survivor told the Associated Press the truck's driver, whose whereabouts were unknown, entered a sharp curve at a high rate of speed and lost control on a road leading to Tuxtla Gutierrez, capital of Mexico's Chiapas state.
ICYMI
100 million holiday travelers will pack the highways Dec. 23 through Jan. 2
Survey: Will it be a new job in the new year for you?
Maverick improves benefits for drivers
You Ought to Read This
Commercial Carrier Journal's Chief Editor Jason Cannon writes: "Heavy truck orders dropped below 20,000 units in November for the first time this year, a vote of no confidence from fleets and manufacturers to a supply chain that has struggled to find enough components to build tractors." Read the entire story at CCJ.