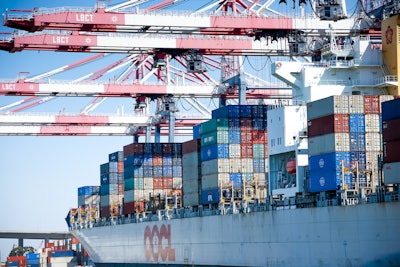 The U.S. House of Representatives on Dec. 8 passed the Ocean Shipping Reform Act that would, among other things, seek to end abusive detention and demurrage practices at U.S. ports.
Introduced by Reps. John Garamendi (D-California) and Dusty Johnson (R-South Dakota), the bill is the first major update for laws governing U.S. maritime port operations in more than 20 years.
The legislation mandates a new rulemaking by the Federal Maritime Commission to prohibit "unjust and unreasonable detention and demurrage rules practices," including a look into the appropriate billing parties for those charges.
The FMC rulemaking is required to establish definitions for demurrage, detention, cargo availability for retrieval and associated free time, and more. It's also required to establish that demurrage and detention rules are not independent revenue sources but incentivize efficiencies in the ocean transportation network, including the retrieval of cargo and return of equipment.
The American Trucking Associations says the legislation is needed to end abusive practices imposed on American trucking companies at U.S. maritime ports by ocean carriers, most of which are foreign-owned.
Specifically, the trucking industry seeks relief from excessive detention and demurrage charges – unfair fees levied on motor carriers by ocean carriers and marine terminal operators when shipping containers are not moved on schedule, even though delays are typically due to factors entirely outside truckers' control and often the result of inefficiencies caused by the ocean carriers themselves.
Driver in I-70 crash and fire to be sentenced
Rogel Aguilera-Mederos ,the trucker convicted in connection with a deadly crash on Interstate 70 near Denver in 2019 that left four people dead is scheduled to be sentenced Monday afternoon. He could face more than 48 years in jail.
Aguilera-Mederos was 23 when his flatbed loaded with lumber slammed into stopped traffic on I-70 near the Denver West Parkway on April 25, 2019. Four people died from the impact:
Aguilera-Mederos was found guilty by a jury on 27 counts. The most serious charges were four counts of vehicular manslaughter. Other counts he was found guilty of included first-degree assault, first-degree attempt to commit assault, vehicular assault, reckless driving, and careless driving.
He is scheduled to appear at 1:30 p.m. for a sentencing hearing in Jefferson County.
ICYMI
Central Freight Lines ceasing operation
Texas college, carrier create new CDL program; classes begin next month
280 truck parking spots created as Love's opens four new locations
See which companies have the flashiest fleets
Take A Look At This