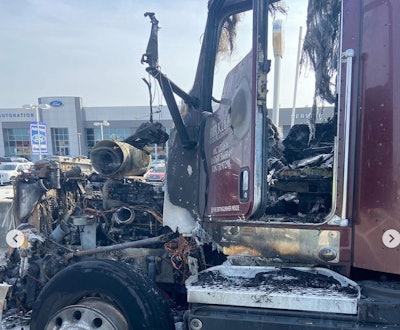 The rapper-turned-trucker Lil' Troy escaped unharmed when his truck caught fire in Texas earlier this week.
Lil' Troy -- a.k.a Troy Lane Birklett -- was on Interstate 10 in Fort Bend County near Houston Monday, Dec. 6, when he saw smoke and flames coming from under the hood of his truck. He was able to stop the truck and exit before it was destroyed by the fire.
"Yesterday I had the scare of my life and the blessing of my life," Troy posted on Instagram on Tuesday. "My truck caught on fire while I was driving on the freeway and I was blessed that I was able to get out of traffic and pull over and get out the truck with no nobody getting hurt. GOD IS good."
The 55-year-old rapper operates Birklett Trucking Company in Missouri City, Texas.
Lil' Troy is best known for his 1999 hit Wanna Be A Baller.
New truck stop opens in South Carolina
Convenience store operator ARKO today announced it had completed the remodeling of a South Carolina store.
The 5,660 square foot Scotchman store in Rock Hill, South Carolina was a "complete raze and rebuild." according to the company.
ARKO said amenities at the new truck stop include:
New interior and exterior design
Separate professional driver entrance
Seven diesel pumps
Deli featuring fried chicken, pizza, and hot grab 'n' go snack items
Expanded hot, cold, and frozen beverage assortment
Expanded grab 'n' go area for prepared foods including hot dogs, Tornados, nacho cheese, chili and chips, breakfast and lunch sandwiches, burritos, pizza, and wings
Two expanded freezers for frozen foods including DiGiorno pizzas, Totino's Pizza Rolls, Stouffer's pizzas and frozen meals, Hot Pockets, Bagel Bites, Devour frozen meals, and White Castle Cheeseburgers
Breakfast offerings to include a warm grab 'n' go at the checkout for breakfast sandwiches and a self-serve individually wrapped donut assortment next to the coffee
Expanded roller grills
Heavy truck orders down
Heavy truck orders dropped below 20,000 units in November for the first time this year, a vote of no confidence from fleets and manufacturers to a supply chain that has struggled to find enough components to build tractors.
With upwards of 9,800 orders booked last month, according to preliminary data released by ACT Research and FTR, November's order total is down 41% from October, down 82% year-over-year, and was the lowest for the month of November since 1995.
ICYMI