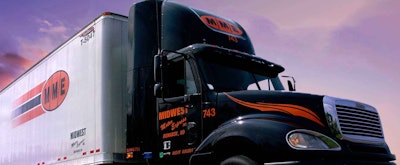 Mega-carrier Knight-Swift Transportation Monday, Dec. 6, announced it has acquired RAC MME Holdings, which operates 103-year-old Midwest Motor Express and Midnite Express.
The purchase price included $150 million in cash, according to a statement from Knight-Swift.
Based in Bismarck, North Dakota, MME provides less-than-truckload, full truckload, and specialized and international logistics services in the upper Midwest and the Northwest. MME's leadership will remain with the company, which will operate as a subsidiary of Knight-Swift.
MME has 30 service centers and has some 800 employees.
The acquisition continues Knight-Swift's efforts to expand its LTL presence.
RELATED NEWS: David Jackson on how Knight-Swift navigates COVID-19
"We are excited to welcome MME to the Knight-Swift organization," said Knight-Swift CEO Dave Jackson. "MME is our next step toward a nationwide LTL network. While preserving and supporting MME's identity and culture, we expect to bring many synergies from Knight-Swift. MME and ACT have minimal regional overlap, and we expect they will be a benefit to one another."
Purchasing MME is the latest acquisition by the Phoenix-based Knight-Swift. In June it acquired Kansas City, Missouri-based UTXL, Inc., a third-party logistics company, and in July bought Alabama-based LTL carrier AAA Cooper Transportation.
"We believe that combining our company with North America's truckload industry leader, Knight-Swift, and being part of building the next nationwide LTL network is an exciting development for MME and its employees," said Marlin Kling, president and CEO of MME. " We look forward to achieving synergies, sharing best practices, and creating value for all Knight-Swift stakeholders."