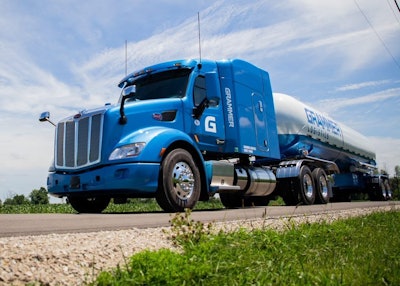 Grammer Logistics Monday, Dec. 6, announced it is establishing a new commercial headquarters, located The Woodlands, Texas about 30 miles north of Houston.
The company said the new office will serve as a central location for Grammer's commercial team and business development activity to support its growing customer base. The company's corporate office will remain in Columbus, Indiana, according to a statement from Grammer.
"We are very excited to open our commercial office in the heart of the chemicals capital of the world," stated Patrick Maher, Grammer's chief commercial officer. "Our Houston location will bring the Grammer team closer to the needs of our customers as we work to develop tailored solutions for their business. Grammer continues to invest in the talent, infrastructure, equipment, and training that the bulk liquids supply chain demands."
With more than 20 terminal locations across the United States, Grammer Logistics specializes in logistics solutions across various chemical market segments. The company has 350 tractors, 850 specialty trailers and over 500 drivers and owner-operators serving over 500 diverse shippers across the ammonia, LP gas, nitric acid, NGLs, and general chemical markets.
Strike averted at Port of Vancouver
A container truck driver strike at two companies serving the Port of Vancouver that was set to begin Friday will be avoided afte the Unifor union reached an agreement with Prudential Transportation. It reached an agreement with Aheer Transportation on Tuesday.
Truckers at the two companies voted to strike if their employers didn't match an agreement reached earlier this year with Harbour Link Transportation. Harbour Link pays truckers $60 per hour after the first hour they spend waiting for their vehicles to be loaded and unloaded.
Unifor says it gave both companies notice on Monday that almost 200 drivers would walk off the job if they weren't offered better employment terms.
A strike would have affected about 10 percent of the vehicles servicing the port.
Love's aids national veterans assistance organization
Love's Travel Stops and Operation Homefront, a national non-profit organization aiding military families, distributed 125 meal kits to families Saturday, Dec. 4 through Operation Homefront's Holiday Meals for Military. Representatives from the Oklahoma City Thunder NBA team, including Rumble the Bison, joined Love's and Operation Homefront to hand out the kits that included Thunder tickets.
"This is Love's second year in a row to have hosted a Holiday Meals for Military event, and we couldn't have been more excited," said Jenny Love Meyer, chief culture officer and executive vice president of Love's. "We love to see how excited the families are when they pick up the kits, and this year's event was made better by the surprise element of tickets from our friends at the Thunder."
The event took place at Love's Corporate Office in Oklahoma City. Meal kits included all the essentials for a traditional holiday meal and four ticket vouchers to a Thunder game of the family's choice. This year's Holiday Meals for Military will put meals on the tables of more than 15,000 military families nationwide.
Operation Homefront provides financial assistance, rent-free housing, caregiver support, and recurring support programs to help military families handle short-term problems.
Truck stop organization donates to driver relief fund
AMBEST, a collective of independent truck stop and service center owners is giving back to the professional driver community with a donation of $21,086 to St. Christopher Truckers Relief Fund.
Over the past few years, AMBEST has raised over $80,000 for SCF to help professional drivers and their families who have financial needs due to current medical problems. AMBEST owners, employees, and even drivers helped raise $11,086 on Tuesday, Nov. 30, Giving Tuesday. That amount combined with the AMBEST corporate match of $10,000 brings the grand total donated to SCF to well over $100,000.
"The past two years have been tough on everyone," said AMBEST President and CEO Steve Allen, "But particularly hard-pressed have been the professional drivers across the country. Our AMBEST locations work hard every day to take care of drivers, and the money donated will further help and bless them in their time of need."
ICYMI
Troopers in four states stage enforcement blitz this week
NY finally allows 18-20-year-olds to obtain CDLs
Melton exec discusses driver compensation, outlook for 2022
Trucker, a former firefighter, honored for actions at accident scene