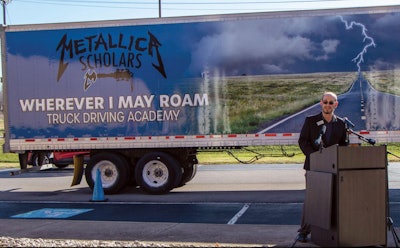 The CDL program at a Kentucky community college has gotten a boost from one of the best-selling heavy metal bands.
Elizabethtown Community and Technical College recently held an event to showcase its driver training program and announced the next phase of a schol;arship program supported by Metallica, the popular 30-year-old metal band.
According to a statement from the college, the Wherever I May Roam Truck Driving Academy, named for a Metallica song, is a part of ECTC's collaboration with the Metallica Scholars Initiative. The event featured an unveiling of a new truck wrap. The scholars program is supported by the foundation created by the band.
"The Metallica Scholars Initiative has proven time and time again that they are fully committed to promoting and supporting technical education and training," said Mike Hazzard, dean of Workforce Solutions and Technical Programs. "This year, the program expanded and now provides scholarships to CDL students, and Metallica has lent their name to help us grow awareness for this high-demand, lucrative career field."
The Metallica Scholars Initiative, funded by Metallica's All Within My Hands and led by the American Association of Community Colleges, has provided more than 100 scholarships to CDL and advanced manufacturing students at ECTC, the college said.
The college is located about 40 miles south of Louisville.
Two convicted of highjacking tractor-trailer, abducting driver
A federal jury convicted two New York City men last week on charges of carjacking, armed robbery, and possession of a firearm in relation to a crime of violence.
According to the U.S. Attorney for the Eastern District of Virginia, court records and evidence presented at trial show that on April 1, at 3:05 a.m., Stephen Pierre Paul, 30, Wayne Ricardo Taylor, 26, and co-conspirators traveled to a truck stop in Mount Jackson in a van with blacked-out windows. Once at the truck stop, Pierre-Paul, Taylor, and the co-conspirators hijacked an 18-wheel commercial tractor-trailer with Alabama tags. The group abducted the truck driver at gunpoint and forced him into their van.
Both vehicles, the van and hijacked commercial truck, were stopped at a roadblock on eastbound Interstate 66 at 5:15 a.m. in Fairfax County. The victim truck driver was rescued, and the defendants were arrested.
Co-defendants Cornelius Crossman, 37, and Odane Butler, 27, both of Brooklyn, New York, will be sentenced for their roles in the conspiracy yet this week and Jan. 21, 2022, respectively.
Pierre-Paul and Taylor each face a mandatory minimum sentence of seven years and maximum of life in prison when sentenced on March 11, 2022. Actual sentences for federal crimes are typically less than the maximum penalties. A federal district court judge will determine any sentence after taking into account the U.S. Sentencing Guidelines and other statutory factors.
Transportation jobs grew in November
The federal Bureau of Labor Statistics' monthly jobs report for November showed an estimated 50,000 payroll jobs added over the course of the month in its transportation and warehousing category, which includes truck transportation. Employment levels in that sector are approximately 210,000 above the pre-pandemic February 2020 level.
In November, the most notable subcategories showing growth were couriers and messengers (+27,000) engaged in more local delivery, and warehousing and storage (+9,000).
All in all, total nonfarm payroll employment rose by 210,000 in November, BLS said, and the unemployment rate lost 0.4 to 4.2%. In addition to transportation and warehousing, notable job gains occurred in professional and business services, construction, and manufacturing. Employment in retail trade declined over the month.
ICYMI