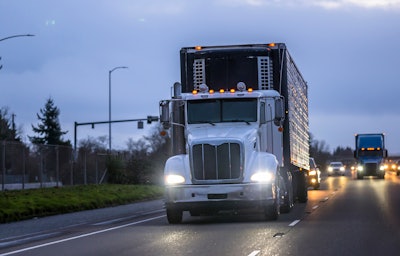 The ongoing COVID-19 pandemic has had a profound effect on the American trucking industry, including what it costs to operate keep a truck on the highway.
Surprisingly, the pandemic caused the average cost per mile for carriers to actually drop a bit in 2020, according to new research from the American Transportation Research Institute.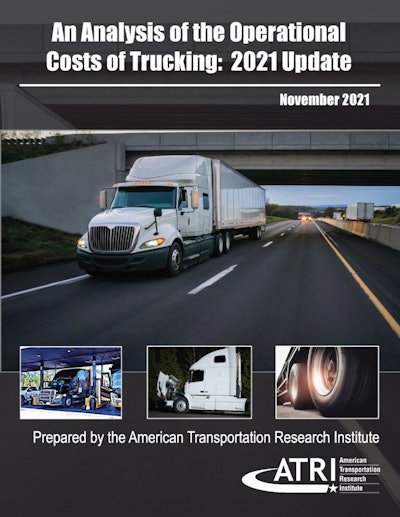 ATRI's An Analysis of the Operational Costs of Trucking released earlier this week found the average marginal cost per mile dropped by 5 cents per mile, or 3.1%, to $1.64 in 2020. The study of data supplied by a variety of carriers shows the per-mile cost decrease was due primarily to spending less on fuel and driver benefits than in 2019.
When the per-mile costs are converted to hourly costs, ATRI said the report found that total hourly costs dropped slightly to $66.87.
ATRI said the report "documents the effect that faster truck speeds, due to lower overall traffic levels, had on multiple line-items."
In addition to faster truck speeds, ATRI said its report shows COVID-19's other impacts included:
dead-head miles increased to 20.6 percent
annual operating miles decreased to 89,358 miles per truck
fuel costs declined by nearly 20 percent to 30.8 cents per mile
However, ATRI said some costs increased in 2020. Insurance costs rose more than 18 percent to 8.7 cents per mile – the highest in the report's history.
Truck driver wages increased from 2019 to 2020, but benefits costs per mile decreased, according to ATRI.
Overall truck driver compensation was 73.7 cents per mile. Safety bonuses increased 10.5% and bonuses paid to retain drivers were up by 14.2%. However, ATRI said starting bonuses dropped by 10% because of what it called "the soft driver marketplace in early 2020 for many sectors."
You can download a copy of the entire report from the ATRI website.
TransForce Group acquires Colorado truck driving school
TransForce Group recently announced it has purchased the United States Truck Driving School in Denver and Colorado Springs.
The sale was finalized Oct. 18. Financial details of the sale were not made public.
USTDS will retain its name and become a part of The CDL School, a TransForce Group Company, and will aid in expanding its veteran work placement program, providing CDL training to former military service members.
USTDS was founded in 1958 by John Mauro, a former Indy 500 racecar driver, who founded the truck driving school in response to the rising demand for professional truck drivers. Today, USTDS operates two separate driver training centers in Colorado utilizes a fleet of 40 tractor-trailers, and employs about 40 full-time employees.
TransForce Group is majority-owned by an affiliate of Palladium Equity Partners, LLC, a private equity firm, and this purchase marks the eleventh acquisition of the TransForce Group under Palladium's ownership.
Will your ELD work when 3G mobile service ends?
The Federal Motor Carrier Safety Administration last week reminded truckers and carriers that mobile phone service carriers are shutting down their 3G service and switching to the newer 5G.
In an email Friday, Nov. 19 the agency warned, "many older cell phones and other mobile devices will be unable to use data services."
FMCSA added, "Once a 3G network is no longer supported, it is highly unlikely that any ELDs that rely on that network will be able to meet the minimum requirements established by the ELD Technical Specifications, including recording all required data elements and transferring ELD output files.
"Therefore, any ELD that requires 3G cellular connectivity to perform its functionality will no longer be in compliance with the technical specifications in the ELD rule after the 3G network it relies on is sunset. When in an area that does not support 3G, a 3G device will register a malfunction. ... the carrier has 8 days to get the malfunction resolved, in this case by replacement, unless an extension is granted."
The announced dates to complete the 3G sunset next year are:
AT&T 3G: Feb. 22
Sprint 3G (T-Mobile): March 31
Sprint LTE (T-Mobile): June 30
T-Mobile 3G: July 1
Verizon 3G: Dec. 31
If you are unsure if your ELD relies on a 3G network, contact your ELD provider. If your ELD does not rely on 3G, and meets all minimum requirements, no further action is needed.
If your ELD relies on a 3G network, ask your ELD provider about their plan for upgrading or replacing your device to one that will be supported after the 3G sunset, and complete the necessary actions as soon as possible.
FMCSA said it "strongly encourages motor carriers to take the above actions as soon as possible to avoid compliance issues, as portions of carrier 3G networks will be unsupported in advance of the announced sunset dates."