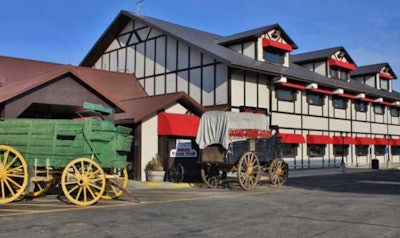 Fifteen Republican governors are asking the federal government to relax some trucking regulations in response to current supply chain issues.
Tennessee Governor and Chairman of the Republican Governors Public Policy Committee, Bill Lee, Monday announced "Operation Open Road," which seeks to have some regulations suspended. Fourteen other Republican governors signed the request, and with Lee pledged to take action at the state level to assist the trucking industry.
Operation Open Road asks the federal government to:
Suspend regulations that require commercial driver's license holders to be 21 years old in order to drive across state lines and lower the age to 18
Suspend the mandate for COVID-19 vaccines for employees, specifically for those in the trucking and transportation industry
Review and revise any federal policies that deter the use or domestic manufacturing of essential transportation equipment, including intermodal containers, chassis, and automobiles, trucks, and tractor-trailers.
Halt spending that will raise taxes, grow inflation and impede economic recovery
Governors signing onto Operation Open Road also committed to using their authorities where possible to:
Modify weight, size, or load restrictions to allow cargo to move more efficiently; adjust hours of service constraints to provide truck drivers more time and flexibility
Deregulate education and occupational licensure barriers to get more commercial truck drivers on the road
Convene state agencies in transportation, commerce, workforce, and other related fields to coordinate with private industry, local governments, and neighboring states to ensure greater efficiency, connectivity, and data sharing among shippers and receivers at ports, distribution points, storage facilities, and other intrastate corridors for the expedited loading, unloading, and transport of freight.
Coastal port states commit to increasing tonnage capacity and accept more Panamax ships waiting off the west coast.
Aside from Tennessee, the other 14 states agreeing to Operation Open Road include Arizona, Florida, Georgia, Iowa, Idaho, Maryland, Missouri, Montana, Nebraska, North Dakota, Ohio, Oklahoma, South Carolina, and Texas.
Free Thanksgiving meal for CDL holders
The tradition continues.
The Boise Stage Stop in Idaho will once again provide folks holding CDLs with a traditional Thanksgiving meal on Thursday.
This will be the 17th year the popular restaurant and truck stop will hold its annual Trucker Appreciation event.
The Stage Stop is located at 23801 S. Orchard Acess Road in Boise.
Colorado survey seeks mountain driving experience data
The Colorado Department of Transportation is surveying truckers about their experience driving in the mountains.
"Our data shows that about 90% of runaway trucks and hot brakes occur from drivers with a CDL outside of Colorado and little mountain driving experience," said Craig Hurst, manager of the freight department at the Colorado DOT.
The CDOT survey asks drivers for their experience level, type of employment, and familiarity levels when it comes to mountain driving. There are questions about what types of signage haulers prefer, too, for runaway exits.
The survey comes in the wake of an April 2019 crash on Interstate 70 near Denver in which four people died and six others were injured. The crash occurred when a tractor-trailer lost control of his truck and slammed into traffic stopped for a previous accident.
The driver of the truck was found guilty last month on numerous counts, including four counts of vehicular homicide.