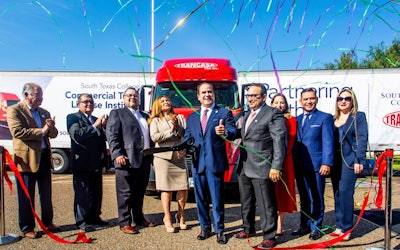 South Texas College, and Trancasa, a trucking company serving the U.S. and Mexico, have partnered to create a new commercial driver's license program.
The first class is scheduled for Jan. 10. The college said its curriculum meets the new Entry-Level Driver Training regulations set by the Federal Motor Carrier Safety Administration. STC is in the process of becoming an approved training provider by FMCSA, which by law has to be approved before Feb. 7 when the new training regulations go into effect.
The program will begin with two full-time instructors and two trucks leased by Trancasa. The course will consist of 200 total hours of instruction over five weeks; 40 hours of classroom and computer lab instruction, as well as 160 hours of observation and driving on a training range and public roads.
"This is a classic example of South Texas College reskilling and upskilling through education and training to meet regional and local labor demands," said South Texas College President Dr. Ricardo J. Solis who brokered the partnership with Trancasa.
"We know that there is a great demand for truck drivers," said Continuing Education Executive Director Olivia De La Rosa. "As a result, we have sped up our timeline to address this demand in our community by starting our first class by next month (January) and creating a five-week program where they will train and then test so they can find a job quickly."
South Texas College is located in McAllen and serves some 31,000 students in five locations.
Trancasa operates a fleet of 700 trucks, 450 in Mexico and 250 in the United States.
Georgia trucker faces murder charge after road rage shooting
A 66-year-old trucker from Georgia is in a Pennsylvania jail charged with murder following what police say was a road rage related shooting on Interstate 81 in West Virginia Tuesday, Dec. 7.
A West Virginia news outlet reports Harold Rue, 66, of Gwinnett, Georgia, has been charged with murder. He allegedly shot and killed Reynaldo Gonzalez Mediavilla, 29, of Hialeah, Florida, during a road rage incident shortly after 9 a.m.Tuesday morning on I-81 near the Marlowe/Falling Waters exit.
The Berkeley County Sheriff's office reports the shooting occurred near the 23-mile marker on northbound I-81. It's said both truckers pulled onto the shoulder of the highway. The two truckers scuffled and Rue reportedly fired twice at Mediavilla with a sawed-off shotgun.
It's alleged Rue shot Mediavilla and then took off heading north on I-81. He was eventually pulled over and taken into custody in Carlisle, Pennsylvania.
Police in West Virginia and Pennsylvania continue their investigation.
ICYMI
Give A Listen
Take A Look