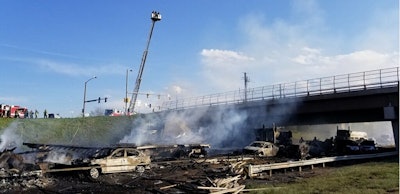 An online petition asking for clemency for a trucker involved in a 2019 accident that killed four motorists has drawn significant public attention.
A Change.org petition has received more than 3.7 million signatures as of this morning and asks Colorado Gov. Jared Polis for commutation as time served or clemency for Rogel Lazaro Aguilera-Mederos. In the crash, Aguilera-Mederos' flatbed loaded with lumber was traveling eastbound on I-70, lost his brakes and missed a runaway truck ramp before piling into stopped traffic.
Aguilera-Mederos was found guilty in October on four counts of vehicular homicide, six counts of first-degree assault, 10 counts of attempted first-degree assault, four counts of careless driving causing death, two counts of vehicular assault and one count of reckless driving. The trucking company Aguilera-Mederos drove for at the time of the crash, Castellano 03 Trucking, inactivated its motor carrier authority shortly after the crash and was a target of several suits in the aftermath.
According to a report from the Denver Post, Colorado's sentencing laws took discretion out of the hands of District Court Judge Bruce Jones in the driver's sentencing. Under Colorado law, first-degree assault and attempted first-degree assault are "crimes of violence," and prison sentences must run consecutively rather than concurrently when they arise from the same incident.