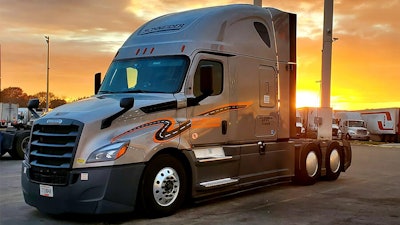 One of North America's largest trucking companies is closing its operations in Canada and relocating its equipment to the U.S.
Green Bay, Wisconsin-based Schenider announced earlier this month it was closing its facility in Guelph, Ontario, Canada. In a statement the company, which had $4.5 billion in revenue in 2020, said is Canadian operations "do not fit within Schneider's long-term strategic focus."
The company said it expects to be out of Canada by the end of March.
The company's entire statement said:
"On January 14, 2022, we announced a change in the company's approach to Canadian-based operations. Despite the dedication and best efforts over many years, Canadian-based operations do not fit within Schneider's long-term strategic focus. This decision was difficult. The change will affect all 150 Canadian-based associates and drivers. We are working with associates during the transition. Company trucks and equipment will transfer to our U.S.- based network to continue to serve our customers and as we proceed with the sale of the Guelph, Ontario property. We expect Schneider will no longer have Canadian-based operations by the end of March. We have notified all our Canadian associates and will remain in regular communication with them over the coming months."
Schneider has a total of 13,029 drivers.
Earlier this month, Schneider announced the acquisition of Midwest Logistics Services, which operates some 900 tractors across 30 locations across the central U.S.