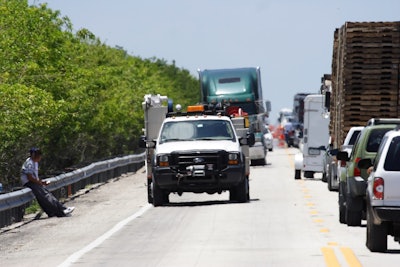 Truckers on some of New Jersey's highways can now get real-time alerts of traffic slowdowns and congestions
New Jersey Department of Transportation Commissioner Diane Gutierrez-Scaccetti earlier this week announced the implementation of a real-time traffic alert system for commercial vehicle drivers.
The system offers in-cab traffic congestion updates and slowdown alerts to commercial vehicle drivers on 647 miles of New Jersey's highways, including the New Jersey Turnpike, Garden State Parkway, and Atlantic City Expressway. Commercial vehicle drivers will be alerted about two to three miles before the slowdown begins, giving them plenty of time to reduce speed to help prevent crashes, according to a statement from the NJDOT.
The system was developed in partnership with Intelligent Imaging Systems -- delivered to drivers through its wholly-owned subsidiary, Drivewyze, Inc., -- along with INRIX, a transportation data, and analytics company. The alerts are available to all carriers and drivers using the Drivewyze PreClear software.
"The New Jersey Motor Truck Association applauds the efforts to provide advance safety alerts to commercial truck drivers via Drivewyze," said Gail Toth of the NJ Motor Trucker Association. "These efforts will help to keep our workplace – the highways – safer for all."
The INRIX traffic and slowdown alerts will join other notifications that truck drivers already receive through Drivewyze's in-cab safety notification service, such as slow down alerts when coming upon dangerous curves, caution notifications when nearing a low bridge, and mountain corridor steep grades. The system will only send notifications to subscribed drivers within the geographical boundaries of New Jersey. Drivewyze is looking to offer similar geolocated services in other states.
Florida plans public hearings on expanding I-4 truck parking
The Florida Department of Transportation has planned two public meetings to discuss potential truck parking site alternatives along the I-4 corridor.
The meetings are part of FDOT's Truck and Freight Alternative Site Analysis Project Development and Environment (PD&E) Study. The purpose of the study is to review, refine and recommend viable concept sites for truck and freight parking potentially in Osceola, Orange, Seminole and Volusia counties along the approximately 74.71-mile I-4 corridor.
The analysis will include public engagement, engineering analysis and environmental assessment as part of the overall evaluation standpoint. Preliminary Concept Design will be performed for each recommended viable preliminary concept site in Osceola, Orange, Seminole and Volusia Counties, and may include additional sites per county if viable.
The first of the two planned meetings will be held Wednesday, Jan. 26 at 5:30 p.m. Eastern regarding I-4 in Seminole County. Truck drivers can participate virtually by registering in advance here; by calling into a listen-only line at 415-655-0052 and entering the passcode 970-201-133 when prompted; or in-person at the Central Florida Zoo & Botanical Gardens – Safari Room in Sanford.
The second meeting is scheduled for Wednesday, Feb. 2 at 5:30 p.m. Eastern regarding I-4 in Orange County. Virtual registration is available here. Drivers can also join by calling a listen-only phone line at 562-247-8422 and entering the passcode 328-555-023 when prompted, or attending in-person at the Ramada Plaza by Wyndham Orlando.
Additional public meetings for prospective truck parking sites along the I-4 corridor will be held in Osceola and Volusia counties in February, FDOT says.
ICYMI
Truckload carrier, Ascend, forms from merger of Milan Supply Chain Solutions and J&B Services
Hear how Lone Star creates flexibility to attract, retain veteran drivers
Trucker busted with $2 million in cocaine in his truck
Take a look at this