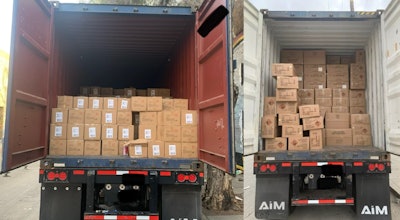 Police in California recently arrested two people in connection with the theft of several trucks, shipping containers and more than $900,000 in cargo
The California Highway Patrol's Southern Division's Special Services Command's Cargo Theft Interdiction Program Task Force assisted Vernon Police Department with a report of a stolen cargo container in the city of Vernon.
A statement on the CHP Facebook page said further investigation resulted in the quick recovery of three stolen tractors, four stolen chassis loaded with four stolen cargo containers, and the arrest of two suspects. The stolen goods included fireworks, tires, and other items, according to CHP.
The total recovery is valued at about $900,999.
CTIP is handling the arrests and investigation.
"This is an excellent example of a great collaborative effort between agencies to better serve the people of California," said the CHP in its Facebook post.
Canadian truck drivers protest border vaccination mandate
Canadian truckers crowded the roads with anti-vaccine mandate flags and slogans on their trucks at the Manitoba-U.S. border this week in protest of the border restrictions for unvaccinated travelers, including truckers.
The move follows Canada flip-flopping on whether the mandate would actually be enforced and plenty of industry pressure from groups like the Canadian Trucking Association. The trade lobby estimates as many as12,000 drivers could be sidelined by the mandate.
The U.S. has a similar vaccine mandate going into effect at the border today. Canada's mandate went into effect on Jan. 15. Social media feeds from the border show long convoys of trucks with anti-mandate messaging.
"Starting on January 22, 2022, the Department of Homeland Security will require that non-U.S. individual entering the United States via land ports of entry or ferry terminals along our Northern and Southern borders be fully vaccinated against COVID-19 and be prepared to show related proof of vaccination," said Department of Homeland Security Secretary Alejandro N. Mayorkas.
ATA praises creation of chip manufacturing plant in Ohio
American Trucking Associations President and CEO Chris Spear Friday praised an announcement by Intel that it is investing $20 billion in a new computer chip manufacturing plant near Columbus, Ohio:
"This is how we climb out from these COVID-induced shortages – by investing in our nation's supply chain.," said Spear. "The global chip shortage is having a heavy impact on the trucking industry and our ability to meet the economy's growing freight demands.
Thousands of unfinished heavy-duty trucks sit parked in lots across the country waiting for chip-enabled components, and tens of thousands of more existing trucks are sidelined waiting for repair parts."
ICYMI
18-20-year-olds apprenticeships plan draws strong comments both for and against
Love on the Highway: How folks make being a couple & being a team work
Driver poll: Ever consider becoming an owner-operator?
Check this out ...