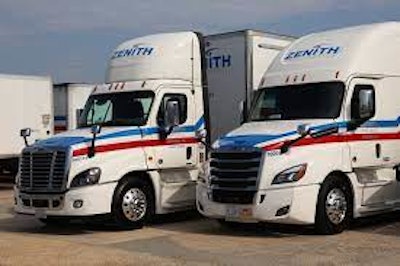 Arkansas-based J.B. Hunt Transport Services Inc. will acquire the assets of Zenith Freight Lines, LLC, a wholly-owned subsidiary of Bassett Furniture Industries, for about $87 million.
A statement from J.B. Hunt said upon closing of the transaction, J.B. Hunt and Bassett will enter into a long-term master services agreement whereby J.B. Hunt will continue to provide services for Bassett.
"This investment enhances J.B. Hunt's furniture delivery capabilities by expanding our nationwide, end-to-end supply chain solution for our customers, and we look forward to establishing a long-term connection with Bassett, a manufacturer and retailer of high-quality home furnishings and a leader in the industry," said John Roberts, president and CEO of J.B. Hunt.
Zenith posted revenue of $87 million in the fiscal year ending in November 2021, with Bassett representing one-third of its business. The transaction will be funded using J.B. Hunt's existing cash balance and is expected to close by Feb. 28, subject to customary closing conditions.
"The sale of Zenith opens an exciting new chapter in our quest to provide the highest level of service to our customers," said Robert H. Spilman, Jr., Bassett's CEO and chairman of the board. "Disruption caused by the pandemic aside, we believe that the consolidation of traditional specialized furniture transportation is inevitable."
Based in Conover, North Carolina, Zenith provides specialized LTL transportation services for furniture manufacturers and retailers in the continental United States. Zenith moves products from manufacturing points or import locations utilizing employee drivers, late-model equipment, and about 1 million square feet of warehouse space to facilitate over one-quarter of a million moves annually.
The acquisition will expand J.B. Hunt's Final Mile Services segment, which has one of the largest nationwide, commingled cross-dock operations. With 116 locations and over 3.5 million square feet of warehouse and facilities space, Final Mile has the ability to serve 100% of the contiguous United States.