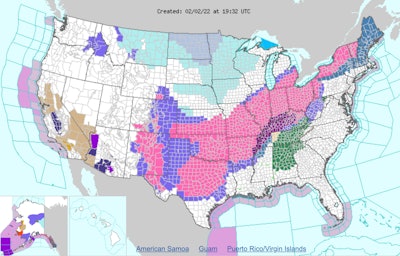 The most recent winter storm -- Landon, if you follow efforts to name them -- is causing delays and closings of highways as it moves west to east, leaving snow, ice, and freezing rain in its wake. Portions of several interstates (including I-70 in Missouri) are closed in the Midwest, several states have declared weather-related emergencies, and truck travel is banned on parts of some highways.
And, it looks as though this will continue through the end of the week. The National Weather Serice provides the gory details:
"A large-scale and massive winter storm will impact the Central, Eastern and Southern U.S. over the next 2 to 3 days. Heavy snow is expected from the southern Rockies to northern New England, while heavy ice accretion is likely from Texas to Pennsylvania. Meanwhile, in the warm sector, heavy rain and flooding are possible in the South and severe thunderstorms near the central Gulf Coast region."
The weather service adds:
The storm will deliver "... several rounds of winter weather lasting through Thursday for portions of the central U.S. before shifting to the interior Northeast. Heavy snow is expected over the Southern Rockies and from the Southern/Central Plains and the Middle Mississippi Valley through the Great Lakes/Ohio Valley and Interior Northeast. A corridor of heavy ice (rain/freezing rain) accumulation is likely from Texas through the Ohio River Valley."
And, the cherry on top of the winter weather sundae for truckers is this from the NWS:
"Plan now for prolonged hazardous winter weather conditions and disrupted travel."
Here's how social media is reacting to the storm: