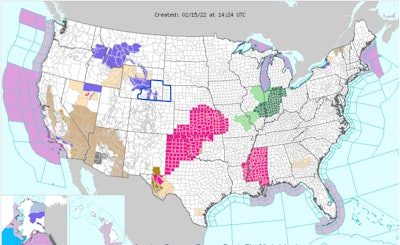 Driving could get dicey across a large part of the U.S. yet this week as a major winter storm is forecast to move from the West to the East.
The National Weather Service advises, "A potent storm system will continue to slice through the Western U.S. the next day or two with showers, mountain snow, gusty winds and cooler temperatures. On Wednesday through Friday morning, this system will evolve into a large-scale, multi-hazard storm with heavy snow, a wintry mix, heavy rain with possible flooding and severe thunderstorms for the Central, Southern and Eastern U.S."
The weather service said the storm's strong cold front will produce gusty winds across the Central Great Basin and Southwest today. The potential for disruptive snow and freezing rain extends from northern Oklahoma to central Michigan Thursday, Feb. 17. Heavy rain and severe thunderstorms are possible from the Southern Plains to the Southeast beginning Wednesday night.
The storm should eventually exit the Eastern Seaboard Friday. Mainly rain is expected all the way up the Northeast coastline to Maine. Strong winds might accompany the cold front as it moves through the Northeast coastline Thursday night into Friday.
AccuWeather is forecasting hurricane-force winds could complicate things along the coast from New York City to northern Maine.