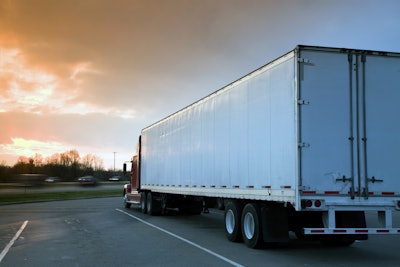 Demonstrating the importance of the issue to the trucking industry, the American Trucking Associations and the Owner-Operator Independent Drivers Association penned a joint letter to U.S. Transportation Secretary Pete Buttigieg asking the federal government for assistance in addressing the nationwide shortage of truck parking.
The groups said the lack of parking "decreases safety for all highway users, exacerbates the industry's longstanding workforce challenges, contributes negatively to driver health and well-being, diminishes trucking productivity, and results in unnecessary greenhouse gas emissions."
The letter cites DOT's most recent Jason's Law Report, which demonstrated that the parking issue is continually getting worse. The 2019 report, the groups said, found that 98% of truck drivers regularly experience problems finding safe parking – an increase from 75% in the 2015 report. The full report has not yet been fully released, and the groups asked that Buttigieg expedite that process.
"Ultimately, the pervasive truck parking shortage can be explained with simple math – there are about 3.5 million truck drivers in the United States and approximately 313,000 truck parking spaces nationally; for every 11 drivers, there is one truck parking space," the groups said.
The letter outlines several issues the lack of parking causes, including hours of service limits forcing drivers to park in unsafe or illegal areas or to violate HOS regulations to find safe, legal parking; drivers not having access to restrooms, food and well-lit facilities; a decrease in driver productivity, causing reduced driver pay and higher operating costs; and more.
ATA and OOIDA asked Buttigieg to also educate state and local governments about grants available to them through the Infrastructure Investment and Jobs Act that would increase funding for truck parking expansion.
"If the USDOT prioritizes the expansion of truck parking capacity and makes significant progress toward that effort, drivers will be safer and healthier, fleets will be more productive, the trucking workforce will be more resilient, and trucks will reduce their fuel needs and emit fewer emissions into the environment," the letter concludes. "All of these benefits would be passed on to the average American in the form of lower prices, greater availability of goods, and a cleaner planet."