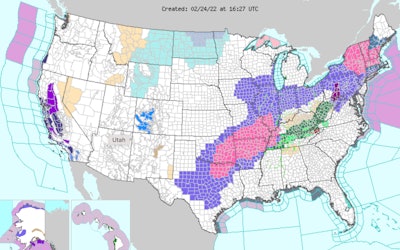 The Federal Motor Carrier Safety Administration on Feb. 1 suspended and proposed debarring a now-defunct trucking company, CAT Inc., and its owner Michael Chaves, according to the Department of Transportation Office of Inspector General.
Suspension or debarment of a company or individual excludes them from doing business with the federal government.
"These exclusions are intended to ensure that only responsible companies or individuals participate in contracts and financial assistance awards with the Federal government," according to the DOT.
In August 2019, Chaves pleaded guilty to bank and wire fraud, falsification of federal records during a federal investigation, aggravated identity theft, and tax evasion.
Last year, Chaves was sentenced to 30 months of incarceration, three years of supervised release and a $1,000 special assessment for falsifying FMCSA registration documents. In addition, Chaves was ordered to pay $631,868 in restitution to bank and wire fraud victims and to the Internal Revenue Service for back taxes related to tax evasion.
Winter storm takes aim at Northeast
A significant winter storm will bring snow and ice from the southern Plains to the Ohio Valley through tonight, and the Mid-Atlantic and Northeast tonight through Friday, according to the National Weather Service. Heavy rainfall could lead to flash flooding from Tennessee to the Ohio Valley through Friday morning.
Winter weather advisories and winter storm watches and warnings are in effect for much of the Northeast, and AccuWeather meteorologists are calling for snow totals as high as 12-18 inches in parts of New York and New England, along with a mix of snow, ice, and rain for points to the south along the I-95 corridor.
Pennsylvania has already issued travel restrictions for truckers.
ICYMI
Hear what mergers and acquisitions mean to companies' drivers
Tell us: Do you feel safe sleeping in your truck?
ATA and OOIDA to Buttigieg: Truckers need more parking; feds need to help
Pilot plans to add 14 new travel centers this year
This you have to see ...