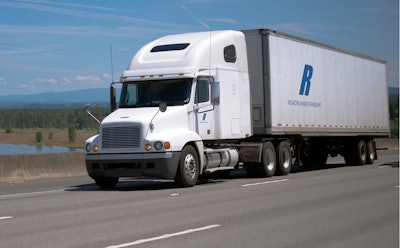 The Federal Motor Carrier Safety Administration is once again extending the COVID-19 emergency declaration that exempts haulers of certain commodities from maximum driving time limits in the federal hours of service regulations. The agency also extended a waiver giving certain drivers more time to renew their CDLs and medical certificates.
The hours of service waiver is now effective through May 31, while the CDL/med cert waiver is effective through April 15. FMCSA says it does not expect to extend the CDL/med cert waiver again beyond April 15.
There are no changes to the hours of service waiver since the last extension issued on Nov. 30. It only applies to drivers hauling the following commodities:
Livestock and livestock feed
Medical supplies and equipment related to the testing, diagnosis and treatment of COVID-19
Vaccines, constituent products and medical supplies and equipment including ancillary supplies/kits for the administration of vaccines, related to the prevention of COVID-19
Supplies and equipment necessary for community safety, sanitation and prevention of community transmission of COVID-19 such as masks, gloves, hand sanitizer, soap, and disinfectants
Food, paper products, and other groceries for emergency restocking of distribution centers or stores
Gasoline, diesel, jet fuel, and ethyl alcohol
Supplies to assist individuals impacted by the consequences of the COVID-19 pandemic (e.g., building materials for individuals displaced or otherwise impacted as a result of the emergency)
Direct assistance does not include non-emergency transportation of qualifying commodities or routine commercial deliveries, including mixed loads with a nominal quantity of qualifying emergency relief added to obtain the benefits of this emergency declaration. To be eligible for the exemption, the transportation must be both of qualifying commodities and related to the immediate restoration of those essential supplies. FMCSA recently offered an interpretation that included transportation of new automobiles and components, parts and supplies necessary for new vehicle production in the variety of "supplies" noted in the final item in the list above.
Carriers who operate under the terms of the declaration are required to report their use of it to FMCSA within five days of the end of each month via their FMCSA portal account.
Roadrunner recognized for quality of its service
Roadrunner, a less-than-truckload carrier specializing in long-haul metro-to-metro shipping, was recently recognized by GlobalTranz for its best-in-class service quality, operational excellence and accessible technology.
"We are honored to be recognized for superior service quality and operational excellence by GlobalTranz," said Roadrunner President Frank Hurst. "We have worked hard to put forth a service-first, competitive value offering that enables our customers to confidently ship nationwide."
According to a statement from the company, Roadrunner completed what it calls transformational improvements to its operations in the past year, resulting in reduced LTL freight transit times across its network, impacting 120 lanes in 32 major metro markets.
"We have unlimited capacity for direct shippers, having simplified and optimized our network and service offering, we are now defying trends in an industry stretched beyond its limits," said Chris Jamroz, Roadrunner Executive Chairman of the Board. "We want to be the service quality leader for LTL carriers,."
ICYMI
For Denny Cravener, a boyhood dream has come true for going on 50 years
Podcast: Here's how ATRI identifies the worst freight bottlenecks in the U.S.