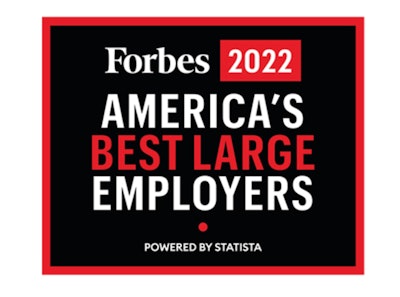 Several trucking and logistics companies have been named to the list of best large employers compiled by Forbes magazine.
On this year's list are:
Carvana, 8th
Old Dominion Freight Lines, 57th
Schneider National, 105th
Total Quality Logistics, 286th
FedEx, 299th
UPS, 380th
Estes Express Lines, 397th
DHL, 446th
XPO Logistics, 490th
The list was compiled after Forbes surveyed 60,000 Americans working for businesses with at least 1,000 employees. Participants were asked to rate their willingness to recommend their own employers to friends and family, and to nominate organizations other than their own. The final list ranks the 500 large employers that received the most recommendations, according to Forbes.
Truck-involved crash fatalities decreased in 2020
The number of people killed in crashes involving large trucks fell by 1.3% in 2020 from 2019, despite an overall 6.8% increase in traffic fatalities in 2020, according to the National Highway Traffic Safety Administration's 2020 traffic crash data. NHTSA defines a "large truck" as commercial and non-commercial trucks with a gross vehicle weight rating greater than 10,000 pounds.
In 2020, there were 4,965 people killed in crashes involving large trucks, down from 5,032 the year prior. The number of large truck occupants killed in crashes fell from 893 to 831, while the number of other vehicle occupants and non-occupants (pedestrians, motorcyclists, pedalcyclists and more) fell from 4,139 to 4,134 from 2019 to 2020.
The number of people injured in large truck-involved crashes also declined in 2020, falling 7.8% from 159,359 injuries in 2019 to 146,930 injuries in 2020.
ICYMI
Mother's Day Truckers Convoy returns fully May 8; 700 trucks expected
New Love's locations open in Tennessee and New York
U.S. trucking delivers humanitarian aid to people of Ukraine
$2.9 million of meth disguised as onions seized; Mexican trucker busted at border
Take a look at this