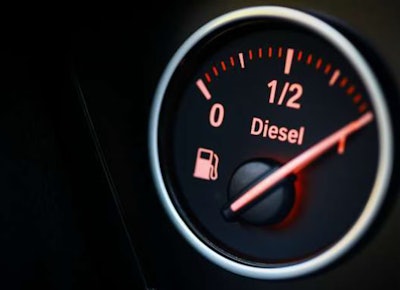 As the price of diesel soared toward record highs, one trucking organization is calling on the federal government to take steps to have America meet more of its own oil needs and decrease its reliance on foreign countries, including Russia.
According to the fuel tracking organization Gas Buddy, late last week "diesel soared to its largest daily gain ever: 22.2 cents per gallon, 6 cents higher than the previous record from 2013." As the Russian invasion of Ukraine continues and the U.S. and other countries increase economic sanctions, diesel and gasoline prices are expected to continue to increase.
A AAA spokesperson told KTLA, "We have to prepare for the worst." AAA reports the average price of on-highway diesel is now $4.526, up from $4.002 a week ago.
American Trucking Associations President and CEO Chris Spear issued the following statement Saturday, March 5:
"With fuel prices skyrocketing, and hardworking Americans feeling the intensifying pain at the pump, it is time the Biden Administration and Congress get real about American energy independence.
"The horrific war in Ukraine makes crystal clear why we need to increase domestic energy production and must eliminate energy reliance on nations that pose a threat to our national and economic security. The millions of Americans who keep our country moving forward should not be put in the position of having to spend a single dollar on Russian fuel that lines the war chest of a genocidal tyrant.
"Our addiction to foreign energy sources not only empowers America's most dangerous adversaries, but it's also having a serious impact right now on our industry's ability to keep costs down for our customers throughout the supply chain. The trucking industry calls on the President and Congress to take immediate, concrete steps to increase domestic production and restart critical pipeline projects in the face of this clear and present danger.
"We cannot afford to ignore our nation's current energy needs in a fog of partisan idealism about the future of energy use. The trucking industry supports an all-of-the-above approach when it comes to securing our energy future. But the transition to cleaner and renewable fuels over the horizon requires a practical, common-sense bridge in the here-and-now, beginning with the abundant sources readily available here at home."