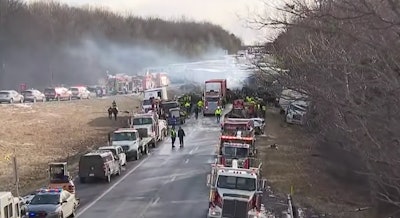 UPDATE: Pennsylvania State Police now say six people died in Monday's massive pileup on Interstate 81 in Pennsylvania. The troopers also say a total of 80 vehicles -- including 39 commercial vehicles -- were involved in the incident that occurred in a heavy snow squall. Authorities also said the first trooper to respond to the crash was involved in the incident and the officer suffered minor injuries.
Our original story:
Northbound Interstate 81 was reopened early this morning, nearly two days after a massive pileup closed the highway, caused the deaths of at least three people and possibly five, and sent 24 others to hospitals with injuries.
The highway reopened today at about 1 a.m. between exit 107 to Tremont/Tower City, and exit 119 to Highridge Park Road. The reopening was delayed by workers having to resurface part of the highway damaged by fluids that leaked from damaged vehicles and fires that burned for as much as eight hours.
Southbound I-81 was closed from the time of the collision until about 6:30 p.m. Monday.
Pennsylvania State Police confirmed the pileup near Minersville was caused by a snow squall that created near-whiteout conditions.
Videos on social media and photos from area newspapers show numerous tractor-trailers involved in the chain-reaction accident. Some of those rigs were damaged or destroyed by fire.
Authorities have not identified any of those who died in the pileup.
Three people were confirmed dead by the county coroner, and the Pottsville Republican Herald is reporting two more people died in the crashes.
The pileup began at about 10:30 a.m. Monday.