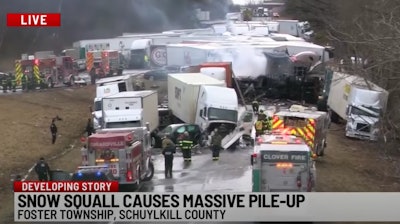 Part of Interstate 81 near Minersville, Pennsylvania remains closed in both directions this morning almost 24 hours after a massive pile-up left three people confirmed dead, 24 more injured, and numerous tractor-trailers damaged including several that caught fire and burned.
The incident involving between 50 and 60 vehicles occurred at about 10:30 a.m. in a snow squall on I-81 northbound between Exit 107: (US 209 - Tremont/Tower City) and Exit 119 (Highridge Park Road). Video and media reports from the scene showed numerous tractor-trailers that were severely damaged and several that were burning. The fires hampered rescue efforts, according to some first responders.
At about 6:30 a.m. today, Pennsylvania State Police tweeted that the cleanup is only about half done.
Check back for more details.