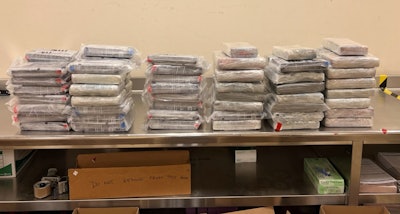 Two truckers were arrested by Las Vegas Police Friday, March 25, when a police drug-sniffing dog identified they had 230 pounds of cocaine stashed in the tomatoes they were hauling.
Police made the stop at about 2:30 a.m. near Interstate 15 when they noticed the truck was driving erratically. Police said the driver's nervous behavior prompted them to call for the drug-sniffing dog to check the cargo.
The dog found 230 pounds of cocaine police said had a street value of $10.5 million.
Nanak Singh and Chandra Prakash were charged with trafficking a controlled substance.
Internationals recalled for battery issue
Navistar is recalling more than 2,800 International LT trucks model year 2018-23 equipped with a 1500W Purkeys inverter system because of aa problem with battery cables.
According to the National Highway Safety Traffic Administration, the positive battery cable may be incorrectly routed, causing it to chafe on the side skirt frame and become damaged. A damaged battery cable can cause an electrical short, increasing the risk of a fire, according to the NHTSA.
Navistar says it will notify owners of affected International LT trucks. Dealers will replace damaged battery cables and install new inverter cable brackets and saddles, free of charge. Navistar plans to send out notification letters around May 16.
For questions about the International LT recall, call Navistar's customer service at 800-448-7825 with recall number 22507. NHTSA's number for this recall is 22V-164.
ICYMI
40th Annual Shell Rotella SuperRigs in Branson, Missouri June 9-11
Stevens gives drivers 'largest and most comprehensive' raise in company history
Driver arrested for human smuggling; 48 people found in tractor-trailer
Pilot raises funds for children in and fleeing war-torn Ukraine