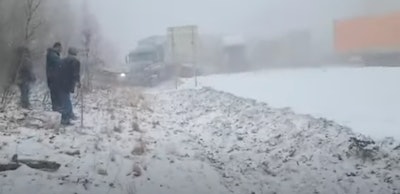 UPDATE: Authorities have revised some of the details of the massive chain-reaction pileup on Interstate 81 in Pennsylvania earlier today.
It's been reported that the Schuylkill County Deputy Coroner confirmed at least three people died in the collision. However, a local radio station is quoting authorities who said five people died. The identities of the dead were not released.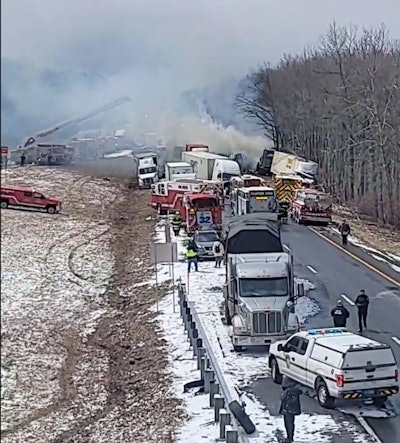 Also, Pennsylvania State Police now say at least 20 people were taken to area hospitals to be treated for their injuries.
Police say at least three tractor-trailers were involved in one of the fires at the scene.
At least 75 people involved in the collisions but who were not injured were taken by bus to a facility established by the Red Cross.
I-81 is expected to be closed well into the evening if not longer.
Here's our original story.
Numerous tractor-trailers were involved in a chain-reaction collision and fire involving as many as 60 vehicles on northbound Interstate 81 in Pennsylvania this morning.
The series of crashes occurred between 10:30 a.m. and 11 a.m. near mile marker 116 in Schuylkill County between Harrisburg and Wilkes-Barre. Reports from the scene say the collisions occurred in a snow squall, and possibly fog, that swept through the region.
Despite numerous collisions and a fire involving several of the tractor-trailers, no serious injuries were reported. The Red Cross was mobilized to create a warming station and help crash victims get united with their families.
Numerous fire companies responded to the crash.
A second crash happened in the region around 12:55 p.m. between Exit 107/Route 209 Tremont/Tower City and Exit 119, Highridge Park Road.
This video from the scene shows numerous cars and trucks slamming into already stopped vehicles. Fair warning, some of the language in this video is NSFW.