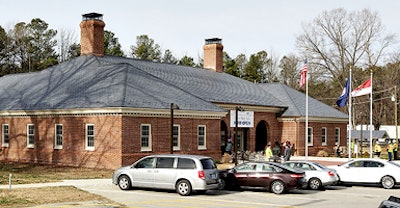 Parking for trucks and other large vehicles will be prohibited at one Interstate 95 rest area in Virginia starting next month. But, the modest inconvenience will pay off in the long run.
The Virginia Department of Transportation said starting at 7 a.m. Monday, April 14, the I-95 South Ladysmith Rest Area in Caroline County will be temporarily closed to trucks, trailers, buses, and other large vehicles.
According to the VDOT, the closure is expected to last about three weeks as construction crews work to increase the parking capacity for trucks at the rest stop. The truck parking area will temporarily reopen the weekend of Easter Sunday. This rest area normally has 20 truck parking spots. That will increase to 45.
The restrooms and other amenities of the rest stop will remain open, as well as 55 parking spots for passenger cars.
VDOT said weather permitting, the project is expected to be completed by summer.
A complete list of VDOT's other rest areas and Welcome Centers can be found here.
Another separate project will mean restroom facilities at the Interstate 64eastbound and westbound Charlottesville Safety Rest Areas in Albemarle County will undergo extended maintenance starting Friday, April 1, requiring the use of temporary restroom facilities at both rest areas through September 2023.
Both rest areas will remain open at all times, to include parking and all other amenities.
Portable restrooms will be available initially, for aboiut 30 days, according to VDOT. These will be replaced by trailer-based restrooms, which will be in place until the maintenance project is complete. All temporary facilities will include handicapped-accessible restrooms and handwashing stations.
The I-64 Eastbound Charlottesville rest area is located at mile marker 105, and the I-64 Westbound Charlottesville rest area is located at mile marker 113.