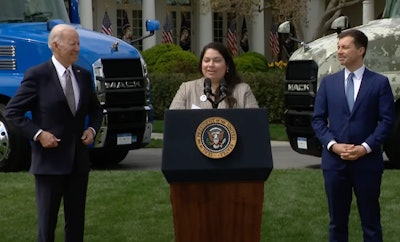 PBS News Hour
Tractor-trailers were parked on the grounds of the White House today as President Joe Biden and others -- including NFI Industries apprentice company driver Maria Rodriguez -- delivered an update on the administration's efforts to address supply chain issues, improve the quality and pay of trucking jobs, and help companies find and hire qualified drivers.
Rodriguez, who was just 2 years old when she came to the U.S. from Venezuela with her parents, joined the trucking industry after losing her restaurant job. She and her significant other both enrolled in the CDL program at the New England Tractor Trailer Training School and both joined NFI's apprenticeship program.
In her introduction of Biden, she said it was her honor "to introduce a president who has done more for truckers in three months than other presidents have done in four years."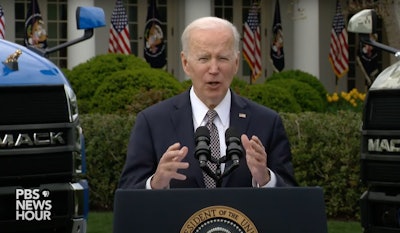 Biden today said the nation's economy has "gone from being on the mend to being on the move." And, he praised truckers for helping make that possible.
"All of you here today are people our economy ought to be built around," said Biden. "Because you literally make it run. That's not hyperbole. I have nothing against investment bankers. They could all retire and nothing much would change. But, you all quit and everything comes to a halt. Think about it. I'm not joking."
The president also repeated many of the problems faced by truckers today, including longs waits -- an average of four and a half hours -- for their trucks to be loaded and unloaded. He also said driver pay has declined. In 1978, it averaged $34 an hour in today's dollars; now it's $25 per hour; nearly a 30% decline, Biden said.
"In this iconic American industry, it's getting harder and harder to raise a family with dignity and pride that you deserve," Biden said. "It's no surprise so many drivers left their jobs." And, he said it was also getting more difficult to attract new drivers. However, he added, "Since I took office, we've begun to turn things around."
In his speech, Biden repeated many of the other details found in a White House fact sheet about the Trucking Action Plan issued today that listed progress made by his administration. Among what are characterized as "major achievements" to expand and improve trucking jobs are:
"Getting Americans working in better trucking jobs: Since President Biden took office, we have seen historic increases in trucking employment with 2021 registering as the best year for trucking employment growth since 1994 and December 2021-February 2022 as the best three-month stretch for long distance truck hiring since the 1990s. And frontline truckers' real wages grew this year despite elevated inflation.
"Cutting red tape in commercial driver's licensing: DOT gave states the tools to more than double new commercial driver's license issuances in January and February 2022 compared to January and February 2021. States have issued more than 876,000 CDLs since January 2021.
"Scaling registered apprenticeships in trucking to improve retention: Over 100 employers including Domino's, Frito-Lay, and UPS launched Registered Apprenticeship programs in 90 days as DOL cut the amount of time it takes to launch a program from months to as little as 48 hours. This could result in more than 10,000 additional apprentices.
"Helping connect veterans to trucking careers: The trucking industry partnered with leading Veterans Service Organizations to launch Task Force Movement: Life-Cycle Pathways for Veterans and Military into Trucking, chaired by former Congressman and veteran Patrick Murphy, to support the recruitment and retention of veterans and military family members."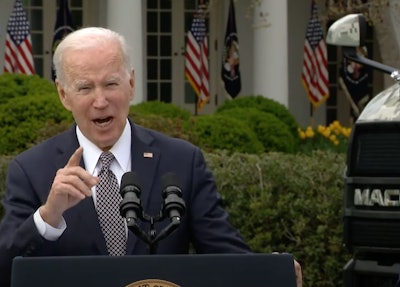 In closing his remarks, Biden said of the trucking industry and its drivers, "The country is counting on you more than it ever has."
Also speaking at today's event were Secretary of Transportation Pete Buttigieg and Patrick Murphy, who is chair of the Veterans Trucking Task Force.
In opening today's event, Buttigieg gave an overview of the administration's efforts to address the issues exacerbated by the ongoing COVID-19 pandemic. He said issues being tackled included improving driver pay and working conditions, making it easier for veterans to find jobs in the trucking industry and improving roads and bridges. He also said his department is working with states to create more safe truck parking.
"We're going to keep our foot on the gas to deliver for drivers who deliver for us every single day," said Buttigieg.