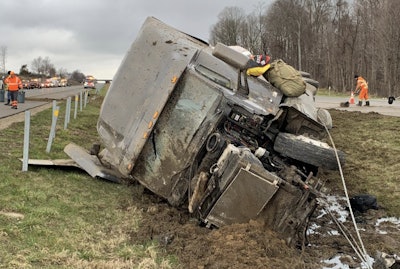 Collision of two tractor-trailers and fire close Ohio Turnpike for several hours
A tractor-trailer crashed into a disabled one in the eastbound lanes of the Ohio Turnpike Wednesday evening about 28 miles southwest of Cleveland.
Ohio State Highway Patrol said the impact caused both vehicles to become fully engulfed in flames. Troopers said the disabled semi had been hauling a hazardous material, which continued to explode for an hour after the initial collision.
The eastbound and westbound lanes of the turnpike, as well as the Interstate 90 overpass, were closed for several hours due to the fire.
The drivers -- a 34-year-old man from Hemet, California and a 57-year-old man from Miramar, Florida -- were uninjured.
Michigan trooper injured when cruiser struck by tractor-trailer
A Michigan State Police trooper was injured when his patrol vehicle was struck by a tractor-trailer earlier this month.
Police said the trooper was on Interstate 94 in Paw Paw in southwestern Michigan when the truck hit their patrol vehicle from behind. The trooper was in the right lane with their lights on when they were hit from behind. The truck went off the left side of the road and into the median.
The trooper is said to have suffered non-life-threatening injuries, and the truck driver had minor injuries.
Trucker injured when cab separates from chassis
A 31-year-old truck driver from Oakley, Kansas was injured Wednesday afternoon in a crash in western Kansas.
The crash was reported at 12:03 p.m. Wednesday on K-23 highway about 12 miles south of Gove City. The Kansas Highway Patrol said a1999 Western Star was headed north on K-23 when it veered across the southbound lanes and went into the west ditch. The semi then struck the embankment, and the cab of the truck separated from the chassis.
The driver, Joshua D. Wolfrum, sustained serious injuries in the crash. He was transported to Lane County Hospital in Dighton.
ICYMI
Feds reengaging on proposed rule to require speed limiters on trucks
Hear all about the expansion of the Iowa 80 Truck Stop's Truck Museum
Love's latest store is off I-94 in Rockville, Minnesota