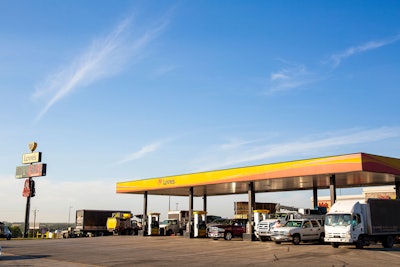 Love's
Love's Travel Stops today opened a new location in Cameron, Missouri. The store, located at Exit 52 (1601 East Evergreen Street) of Interstate 35, has120 truck parking spaces.
The location is open 24/7 and offers many amenities, including:
Arby's (opening May 9)

Eight diesel bays

Ten showers

Laundry facilities

CAT scale

Speedco (opening May 23)

Fresh Kitchen concept

Mobile to Go Zone for GPS, headsets and smartphone accessories

Dog park
In other news, Love's today also announced Love's 417 in Gary, Indiana, which had a fire Feb. 10. has reopened with limited services and amenities. Diesel, DEF and limited snacks and drinks are now available 24/7. A statement from the company said drivers can also access temporary restroom facilities, parking, Wi-Fi, and Boss Shop. For now, the location does not have gasoline available.
"Thank you for your patience and support as we rebuild this location," said Love's in its statement. "Our team members are ready to get professional drivers back on the road quickly and safely."