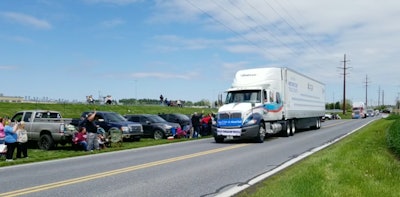 A Pennsylvania Mother's Day tradition is back in its full glory.
Some 500 trucks showed up for Sunday's Mother's Day Convoy to benefit the Make-A-Wish of Philadelphia, Delaware, and Susquehanna Valley. Truckers raised more than $475,000 for the organization that grants wishes to children with special needs. Fundraising continues through Father's Day, June 19, and the organization expects to bring in over $500,000.
The RoadPro Family of Brands is the event's presenting sponsor and contributed $30,000 to the event.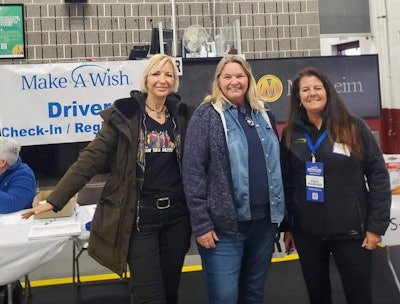 "RoadPro Family of Brands is proud to be the presenting sponsor of the 2022 Make-A-Wish Mother's Day Convoy," said Kim McDonnell, manager of customer experience for RoadPro. "The drivers that participate in the Convoy work hard all year to raise money to grant wishes to children with critical illnesses, and we love to be there on Convoy day to say thank you to the drivers for everything they do to make wishes come true. It is so special to see the big smiles on the faces of the wish kids at Convoy when they get to ride in a big rig – it is truly priceless!"
The convoy was once again held at the Manheim Auto Auction. It moved to this location in 2020, but was scaled back markedly because of the COVID-19 pandemic.
This year's convoy resembled those in pre-pandemic years. In addition to the convoy, the event featured its family carnival, food, entertainment, and auction at the auto auction site.
"It was amazing to be at Manheim Pennsylvania Auto Auction and to return this event to its full scope. You could feel the excitement from the crowd as they enjoyed the Convoy carnival, food trucks and checked out the 300+ trucks" said Jennifer Davis, president and CEO of Make-A-Wish Philadelphia, Delaware & Susquehanna Valley. "I am humbled by the passionate truck drivers who raise funds for Make-A-Wish through the Convoy."
Joanne Fatta, who drives for Sunrise Transport was one of the many drivers who even use a weekend day to drive in the convoy. She shared the convoy with her mother this year and was part of the organizing committee.
"Why do I take a day off to be a part of this amazing event? Well, a lot of it has to do with the fact that it's in my hometown and that Roadpro is involved with the event. Since I'm a member of the drivers' council I feel being a part of this event lets me show my true appreciation to RoadPro to let them know how much I appreciate all they do for us drivers.
"In addition, the fact that it's all about the kids touches my heart. I not only drove in convoy but worked the driver registration desk all morning and am on the committee of Make a Wish. All because I love seeing the wishes come true for these kids and seeing truck drivers from all over come to support Make a Wish. Truckers have good hearts and are some of the best, hard-working men and women. It's all about the kids for us all."