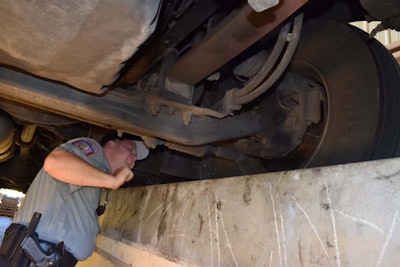 The Commercial Vehicle Safety Alliance's annual International Roadcheck is but a few days away. Will you be prepared if you get stopped?
The annual Roadcheck blitz begins Tuesday, May 17, and lasts through Thursday, May 19. During that time, During that time, law enforcement officers throughout the U.S., Canada, and Mexico will inspect commercial vehicles paying close attention to trucks' wheel ends.
Last year more than 40,000 commercial vehicles were inspected, including 19,768 in the U.S. Those inspections led to 4,136 vehicles and 1,083 drivers being placed out of service for violations.
The top violations on vehicles last year were:
Brake systems, 2,564 violations
Tires, 1,804 violations
Lights, 1,367 violations
Brake adjustment, 1,203 violations
Cargo securement, 1,192 violations
The top violations by drivers last year included:
Hours of service, 1,203
Wrong class of license, 565
Other ( including operating without the required operating authority, expired or no medical certificate, operating a commercial motor vehicle while ill or fatigued, driving while prohibited in the Drug and Alcohol Clearinghouse)
False logs, 427
Suspended license, 132
Vehicles that pass a Level I or V inspection with no critical vehicle inspection item violations are eligible to receive a CVSA decal. Generally, vehicles displaying a valid CVSA decal, valid for up to three months, are not subjected to inspection. Instead, jurisdictions typically focus their efforts on vehicles that do not display a valid decal.
Our colleagues at Overdrive polled readers and found:
28% of respondents said it will be business as usual for them next week
22% have planned to take vacation time and avoid Roadcheck all together
12% said they have done their own inspection of their truck to be ready for Roadcheck
Overdrive also published several articles to help drivers prepare for Roadcheck. You can find those articles online.