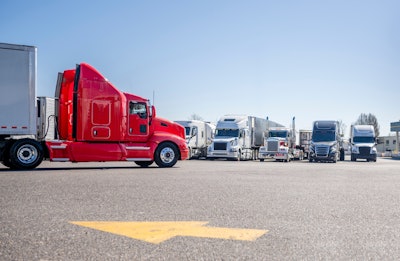 Looking for a reliable place to park, then you better hope your trucking travels take you to Huntington, Oregon; Walcott, Iowa; or Tonopah, Arizona.
Those are among the top 20 truck parking locations with the greatest availability of spaces, according to responses from users of the Trucker Path app.
"Truck drivers using the Trucker Path app are asked to share information about how many parking spaces are available at truck parking locations and other points of interest," said Chris Oliver, CMO at Trucker Path. Drivers are asked if there are many, some, or no available parking spots available.
With one exception, all of the locations on the list are operated by the major travel center chains.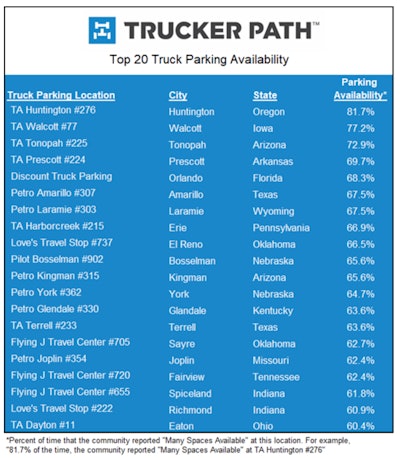 Use your Jake brake in this NJ town and you'll get a ticket
Be careful if your trucking travels take you through Franklin, New Jersey.
This borough of about 5,000 people in the northern part of the state earlier this week approved a local ordinance outlawing the use of engine braking, more commonly known as Jake braking. The city council voted 4-1 to outlaw the use of this common trucking device.
The council took the action in response to citizen complaints about noise from trucks, primarily headed to and from a local quarry.
Penalties for violating the ordinance are a $150 fine for a first offense, $250 for the second, and a $500 fine for the third or more offenses. Violators could also face 10 days in jail for a first offense, 20 days in jail for a second offense, and up to six months in jail for a third or subsequent offense.
The law takes effect once signs are posted.
ICYMI
Poll: Would speed limiters force you to reconsider your job?
Big G trucker named Tennessee's driver of the year
Bill introduced to remove truckers' overtime exemption
Hear all about the expansion of the Iowa 80 Truck Stop's Truck Museum
Not all truck/tractor pulls end well