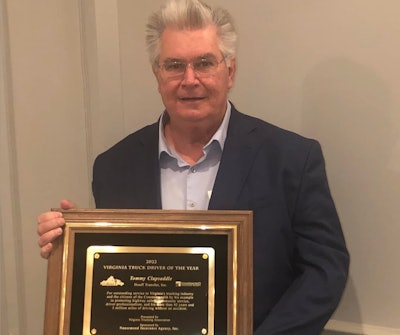 The Virginia Trucking Association recently honored its driver of the year and recognized several safety professionals.
Tommy Clapsaddle, a driver for Houff Transfer from Covington, was chosen driver of the year. A Navy veteran, Clapsaddle has been a driver for 42 years and has accumulated over 3 million safe and accident-free miles. Clapsaddle has had also no serious violations in the past 10 years.
The VTA also presented J.D. Newman Inc. of Elkwood with the 2022 Grand Trophy for Fleet Safety in Virginia. This award is presented to the company that was judged to have had the state's most effective motor carrier safety program in 2021.
Also, Chris Taggart of Atlantic Bulk Carrier in Providence Forge was named the association's Safety Professional of the year. This award is presented to a person responsible for directing or supervising safety activities of a VTA member trucking fleet and be of high moral character and devoted their career to the field of highway and industrial safety.
Jilly Tolley of Hot-Z Transport Company in Salem was named the VTA's Human Resources Professional of the year. This award recognizes an outstanding HR Professional's achievements and contributions to the advancement of HR in the trucking industry.