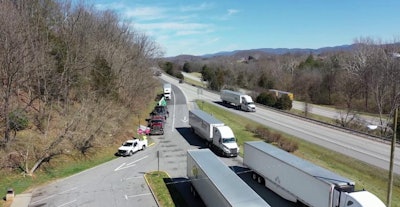 The Troutville Rest Area located on southbound Interstate 81 near mile marker 158 in Botetourt County, Virginia will be closed from after Memorial Day until early September -- before Labor Day. During the closure, a temporary concrete barrier wall will be installed in front of the facility, so motorists will not be able to enter the rest area or use the parking lot and restrooms.
The Virginia Department of Transportation said the closure is needed for a project to extend the ramp into and the ramp out of the facility.
While the Troutville Rest Area is closed, southbound I-81 drivers can use the Fairfield Rest Area at mile marker 195 in Rockbridge County or the Radford Rest Area at mile marker 108 in Montgomery County, according to VDOT. Portable toilets and parking will be temporarily available for commercial vehicles at the Troutville Weigh Station located on southbound I-81 at mile marker 149.
VDOT said the existing ramps at this rest area are short, and extending them will improve safety by providing motorists more space to accelerate or decelerate. The off ramp into the rest area will be extended about 500 feet and the ramp onto southbound I-81 will be extended about 2,100 feet. The project also includes expanding the truck parking area at the facility by from 10 to 13 spaces.
The Troutville Rest Area ramp extension project is a part of the I-81 Corridor Improvement Program approved by the Commonwealth Transportation Board in December 2018. The more than $2 billion package of improvements was funded by the Virginia General Assembly and signed into law in spring 2019.