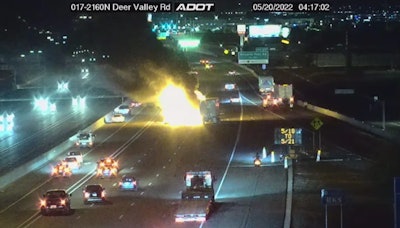 A truck driver died in the early morning hours of May 20 when his truck collided with another from the same company for which he drove.
The Arizona Department of Public Safety reported three tractor-trailers from the same company were northbound on Interstate 17 near Phoenix at about 4 a.m. One of them had mechanical problems and came to a stop in a lane of the highway. A second truck from the same company pulled over and its driver tried to help the first.
A third truck from the company could not stop in time, swerved but still struck the second of two trailers of the first vehicle. The driver of that truck died at the scene.
Northbound I-17 was closed today, as were the eastbound and westbound Loop 101 to northbound I-17 on-ramps are also closed.
Police continue their investigation.