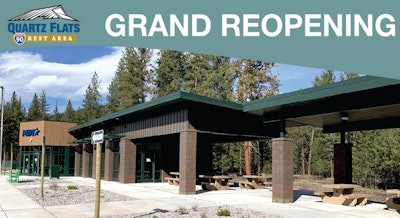 The Montana Department of Transportation is reopening the Quartz Flat Rest Areas between Superior and Alberton on Interstate 90 early next week.
These new rest areas are expected to fully reopen on Monday, May 23, and a ribbon-cutting event will be held at 4:30 p.m, according to the department.
The new rest areas feature larger parking lots to accommodate increased truck traffic, better lighting and safety features, and improved water supply systems. The westbound rest area has 14 new truck parking spaces for a total of 24, and the eastbound rest area adds 18 new spaces, giving it a total of 30.
MDOT said these rest areas serve an estimated 2,441 people every day.
ATA and OOIDA ask for extension for speed limiter comments
Two major trucking organizations are asking the federal government for more time to respond to a proposal to require speed-limiting technology on all heavy-duty trucks.
In its May 11 letter posted to the site for comments, the American Trucking Associations, said, "This notice requests specific feedback on motor carriers' experience with the programming and adjustment of engine control units as well as feedback on the applicability of speed limiting devices. As such, ATA's Safety Policy Committee will be meeting mid-May to discuss this notice and solicit feedback. Extending the comment period an additional 30 days will allow ATA to incorporate this feedback into public comments."
On May 13, the Owner-Operator Independent Drivers Association asked the Federal Motor Carrier Safety Administration for a 60-day extension.
Unless changed, the deadline to make comments on the proposed rule is June 3.
The proposal has drawn some 5,500 comments since being posted May 4.
ICYMI
Award winner tells what it takes to be an elite tanker driver
FMCSA's speed limiter proposal draws numerous negative comments
Marijuana, predatory towing among ATRI's research priorities
Drug and alcohol violations lead to Pennsylvania driver being shut down
Take a Look at This