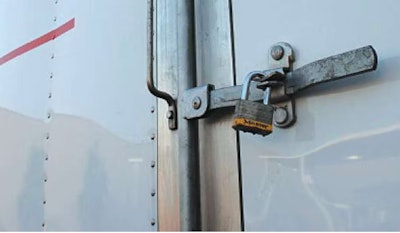 Drivewyze announced recently that it has teamed up with Verisk to provide cargo theft alerts as a value-added feature in its Safety+ service.
Drivewyze Safety+ is an in-cab SaaS product that provides context-based, proactive, customizable, driver safety notifications through existing ELDs or telematics devices. Safety+ delivers a fleet's first layer of driver coaching where and when drivers need it most. Safety+ also uses coaching automation to reduce workloads on safety managers, plus has analytics to deliver advanced insights into driver and fleet safety performance.
The theft "hot spot" alerts are available thanks to a collaboration with Verisk, provider of CargoNet, the cargo theft prevention and recovery network. With Cargo Theft Alerts, drivers are notified when approaching one of the top 50 riskiest parking locations and top 50 riskiest counties in the country. Safety+ will display a driver-safe visual and audible warning through the in-cab ELD or telematics device as they approach these high-risk areas. The alerts are fully automated and require no driver interaction.
Safety+ high-risk areas will be updated regularly based on the latest data from CargoNet. Subscribers also receive Daily Hot Theft Zone Alerts, powered by CargoNet, to be informed on the latest incidents of cargo theft throughout the U.S. and Canada. CargoNet's database receives and integrates cargo theft data from law enforcement, insurers, transportation companies, manufacturers, and retailers. Theft victims, insurers, and law enforcement may enter data online using internal investigation and claims management systems or industrywide databases such as ClaimSearch. Theft victims may also call CargoNet's 24-hour call center.