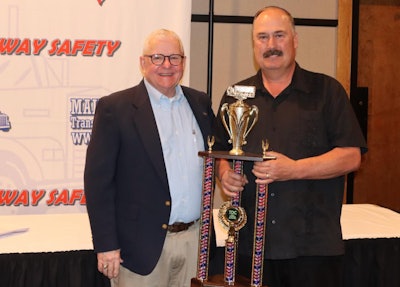 A driver for A & A Trucking won the Maine Motor Transport Association's Professional; Drive Championship held May 21.
Alan Paradis also won the three-axle class.
Robert Cochran, who drives for FedEx Express won the written exam portion of the competition. Ron Round, who drives for Pottle's Transportation, won the pre-trip inspection competition. The top rookie was Wayne Martin, who drives for Hartt Transportation Systems.
The team trophy was won by Walmart Transportation.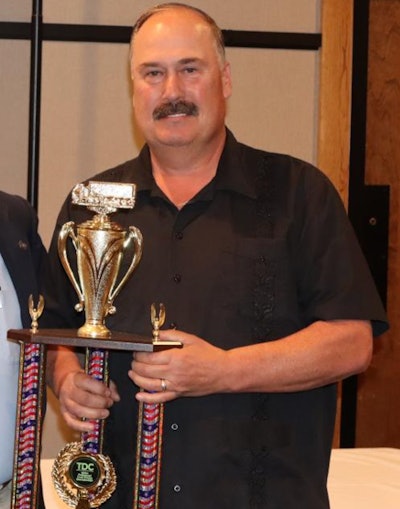 The class results include:
3AXLE
1 Alan Paradis A & A Trucking
2 Michael Henderson FedEx Freight
3 David Shnur Walmart Transportation
4AXLE
1 Robert Fernald Walmart Transportation
2 James Vatter A Duie Pyle
3 Vincent Cote ADUSA
5AXLE
1 Kenneth Duncan Walmart Transportation
2 James Jewell PAF Transportation
3 David Merriam Hartt Transportation
FLATBED
1 Jonathan Sawyer Walmart Transportation
2 Ronald Round Pottle's Transportation
3 James Ouellette ADUSA
SLPBRT
1 Wayne Martin Hartt Transportation
2 Tom Pooler ADUSA
3 Jason Murphy Walmart Transportation
STRAIGHT TRUCK
1 Jeff Granholm Pottle's Transportation
2 Dean Flye Jr. FedEx Express
3 Jack Ayer Dysart's Transportation
TANK TRUCK
1 Haleigh Fickett R.H. Foster
2 Craig Gagne Messer
3 Joe Smith Pottle's Transportation
TWINS 1
Matthew Richardson Performance Food Group
2 David Roberts Walmart Transportation
3 Robert Pedersen FedEx Freight
STEPVAN
1 Robert Cochran FedEx Express
2 Paulie Rumery ADUSA Rookie
3 Patrick Baum FedEx Ground