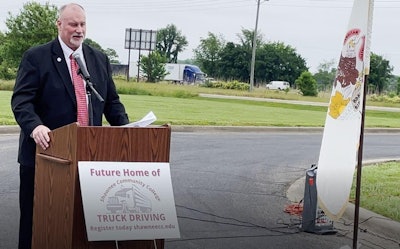 Shawnee Community College earlier this week broke ground to expand the its truck driver training program into Metropolis. The college will now offer truck driving courses at both its main campus near Ullin as well as at the SCC Metro Center in Massac County.
Both campuses are located in southern Illinois.
"Truck driving is a program that we consistently run a waiting list on and one that receives continual requests for at our various locations. This expansion will allow us to double the number of students we can admit to the truck driving program and we anticipate being able to serve more than 100 students annually through this expansion," said Shawnee Community College Vice President for Academic Affairs Darci Cather during the groundbreaking ceremony.
Cather said the program can be completed in a short time, helping students transition into high-demand, well-paying jobs quickly.
"Students can obtain their commercial driver's licenses in less than seven weeks and be on the road in less than two months," she said.
Roadrunner on Newsweek's Most Trustworthy Company list
Roadrunner, a nationwide less-than-truckload carrier specializing in long-haul metro-to-metro shipping, has been recognized in Newsweek's inaugural list of America's Most Trustworthy Companies 2022.
Newsweek partnered with Statista to evaluate public companies with over $500 million in revenue through an extensive survey of approximately 50,000 residents and 110,000 evaluations. Four hundred companies were chosen on criteria including investor, customer and employee trust for a holistic approach.
"We have come a long way," said Roadrunner President Frank Hurst. "Trust is the pillar of any business, and we are proud that we are being recognized for the work we have done to rebuild it with our customers and business partners. These are the results a service-oriented culture produces."
Fleetmaster adds first two Volvo VNR Electric trucks
On Monday, May 23, Fleetmaster Express gathered at the AT&T Stadium to celebrate the launch of the first 2 Volvo VNR Electric trucks in their fleet. With the help of Volvo Trucks North America, Ball Corporation, and Nacarato Truck Centers – this dream came to life.
"4 years of countless planning, engineering, and development; I'm thrilled to say that Fleetmaster Express is on the cutting edge of the industry delivering an alternative sustainable energy solution. Technology like this is the future of our industry," said Travis Smith, chief operating officer, of Fleetmaster Express.
The trucks will operate out of Fleetmaster Express's Fort Worth, Texas terminal with plans to grow to all local positions in Indiana, Ohio, Virginia, and Tennessee. Two charging stations have been installed to support the 100% electric vehicles and an additional 8 are scheduled for deployment over the next few months.
Fleetmaster Express has supported Ball Corporation since 1987; they are proud to be at the forefront of this technology. The Volvo VNR Electric trucks will be used to haul aluminum cans on roughly 8-mile runs around Fort Worth from Ball's distribution center, averaging 10-15 trips per day.
ICYMI
FMCSA extends speed limiter comment period by 45 more days
Drivewyze and CargoNet collaborate on theft alerts for truckers
Crete Carrier and Shaffer Trucking boost pay for owner-operators