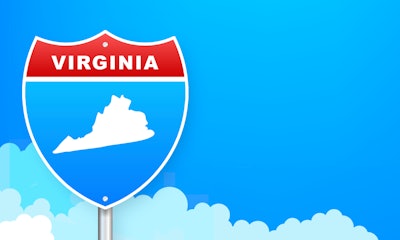 The Virginia Department of Transportation said construction on part of Interstate 81 this month will cause some inconvenience for truckers and other travelers.
Construction to improve the I-81 northbound at exit 17 in Abingdon will create 24-hour lane closures on multiple days during two weeks in June, weather permitting. Abington is located between Roanoke and Knoxville, Tennessee in southwest Virginia.
The first lane closure will begin at 8 p.m. Sunday, June 5 and will remain in place until 6 a.m. Thursday, June 9. The closure is necessary to replace the left travel lane and left shoulder of the northbound bridge deck above Route 75.
The second lane closure will begin at 8 p.m. Sunday, June 12 and will remain in place until 6 a.m. Thursday, June 16. This closure will replace the right travel lane and right shoulder of the northbound bridge deck.
Local traffic is advised to seek alternate routes to avoid interstate traffic backups, which have the potential to be significant during peak afternoon travel times. Motorists traveling through the area should research alternate routes to avoid congestion or travel through the work zone during non-peak travel times such as mornings and overnight hours.
ShipX acquires Princeton Logistics Group and TriStar Carriers
ShipX, a tech-enabled e-commerce transportation delivery service provider, has acquired Princeton Logistics Group (PLG) and its subsidiary, TriStar Carriers. The companies will be renamed ShipX but will continue to serve their carrier, retailer, and private fleet customers.
With the acquisition, ShipX expands its focus beyond final-mile parcel delivery and will be able to offer a more complete suite of e-commerce transportation services.
PLG customers range from major big-box retailers, e-commerce shippers, major carriers, and private fleets, but its niche is harnessing small to medium carriers in its service area along the East Coast. TriStar's two main service areas are middle-mile trucking and air cargo services.
ICYMI
FMCSA extends speed limiter comment period by 45 more days
Driver Poll: How long will you wait to talk to a recruiter?
FMCSA waives hours regs for shipments of baby formula
NHTSA report shows 2021 traffic deaths reached total last seen in 2005