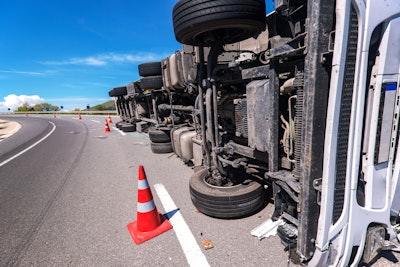 The number of Americans who died in highway crashes last year increased markedly over 2020 and is the highest in 16 years.
The National Highway Traffic Safety Administration's recently released study projects some 42,915 people died in motor vehicle traffic crashes last year, a 10.5% increase from the 38,824 fatalities in 2020. The projection is the highest number of fatalities since 2005 and the largest annual percentage increase in the Fatality Analysis Reporting System's history.
The NHTSA's report estimates fatalities in crashes involving at least one large truck were up by 13% in 2021.NHTSA said there were 5,601 truck-involved fatalities in 2021. NHTSA defines a large truck as any truck with a GVWR of more than 10,000 pounds, either in commercial or non-commercial use at the time of the crash
Additionally, the traffic fatalities in the following categories showed relatively large increases in 2021, as compared to 2020:
Fatalities in multi-vehicle crashes up 16%
Fatalities on urban roads up 16%
Fatalities among drivers 65 and older up 14%
Pedestrian fatalities up 13%
Daytime fatalities up 11%
Motorcyclist fatalities up 9%
Bicyclist fatalities up 5%
Fatalities in speeding-related crashes up 5%
Fatalities in police-reported, alcohol-involvement crashes up 5%
"We face a crisis on America's roadways that we must address together," said U.S. Transportation Secretary Pete Buttigieg. "With our National Roadway Safety Strategy and the President's Bipartisan Infrastructure Law, we are taking critical steps to help reverse this devastating trend and save lives on our roadways."
Forty-four states, the District of Columbia, and Puerto Rico are all projected to have had an increase in traffic deaths, as compared to 2020, according to the NHTSA.
Preliminary data reported by the Federal Highway Administration show that vehicle miles traveled in 2021 increased by about 325 billion miles, or about 11.2%, as compared to 2020.
Data estimates show the fatality rate for 2021 was 1.33 fatalities per 100 million VMT, marginally down from 1.34 fatalities in 2020. While the fatality rate continued to rise in the first quarter, it declined in the other three quarters of 2021, compared to 2020.