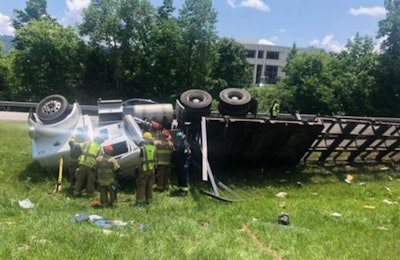 A trucker was trapped in his truck's cab for an hour and a half Tuesday, May 31, after a crash on eastbound Interstate 24 in Tennessee.
Hundreds of chickens on the tractor-trailer died in the crash.
The Chattanooga Fire Department reports the truck struck a guardrail and flipped into the median near mile marker 172 shortly after 1 p.m.
The driver was transported to a nearby hospital with what the fire department said were non-life-threatening injuries.
A crew from a poultry processing company arrived to help manage the chicken situation. The live chickens were collected, and the dead chickens were removed from the roadway.