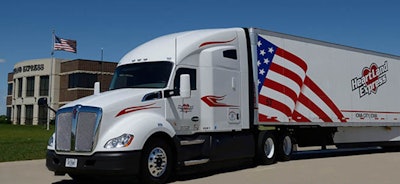 Heartland Express, Inc. announced today that it has acquired 100% of the equity of dry van truckload carrier Smith Transport, Inc. and related entities for about $170 million.
Founded in 1982, Smith Transport is an asset-based truckload carrier headquartered in Roaring Spring, Pennsylvania, with terminal locations in Pennsylvania, Georgia, and Indiana. Smith primarily provides dry van transportation and other specialized services in the eastern United States. Smith operates a fleet of about 850 company tractors, with an average age of less than three years, and approximately 2,000 dry van trailers, according to a statement from Heartland.
"We are proud to welcome the Smith people, customers, and brand to the Heartland Express family," said Michael Gerdin, chairman, president, and CEO of Heartland Express. "We are extremely happy to bring aboard a company with a rich tradition of trucking for more than forty years. It is truly an honor to have Smith Transport join our team."
Gerdin said the Smith companies will continue to operate from Roaring Spring, Pennsylvania, under the leadership of Todd Smith, president, with ongoing support from founder Barry Smith.
"We were attracted to this opportunity for three main reasons: the safe and experienced professional drivers, the high level of service offered to a blue-chip customer base, and the management depth that demonstrate the ability to continue operating independently and profitably," said Gerdin. "Our plan is to keep Smith the same company that is attractive to customers, drivers, and other personnel, while using our scale to offer better purchasing, more depth, and advantageous cost savings."
Todd Smith, Smith's president, said of the transaction, "As an employee-owned company, our goal was to find the best value and the best home for our people for years to come. We had long thought Heartland was a great fit because their regional presence, respect for professional drivers, and unsurpassed customer service that mirrors our own philosophies. With the ability to pay cash and invest in our headquarters, and the desire for Smith to remain an independent brand operated by the same people, the choice was clear."
Heartland Express, Inc. is an irregular route truckload carrier based in North Liberty, Iowa, serving customers with shipping lanes throughout the United States. Heartland focuses on medium to short-haul regional freight.