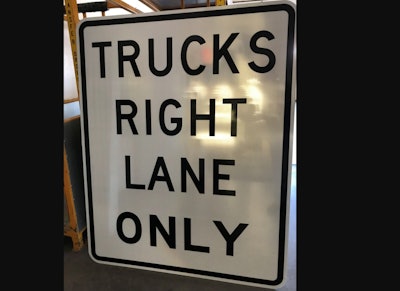 To promote safety on a 20-mile segment of I-10 between Phoenix and Casa Grande, the Arizona Department of Transportation, in collaboration with the Department of Public Safety, is installing new signage that will restrict heavy vehicle truck traffic to the right lane only.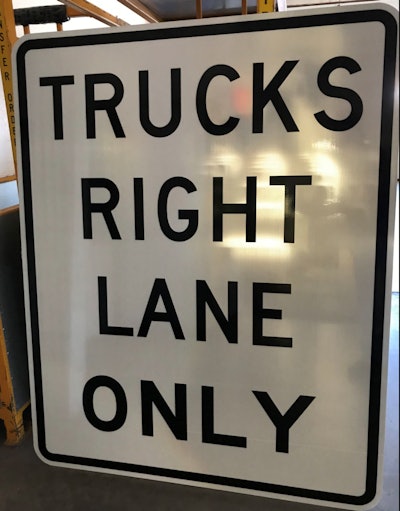 The signs are an interim safety measure along the final two-lane stretch of I-10 between Phoenix and Tucson, ADOT said, that has yet to be widened to three lanes in each direction.
Heavy traffic flow and truck traffic have caused the safety concerns. Based on data for the area where the signs are being posted, heavy vehicles were involved in about 20% of crashes and 15% of rear-end and sideswipe crashes, according to ADOT.
The signs are intended to be in place until an improvement project kicks off to widen this segment of I-10. The first step is expected in 2023 with the replacement of bridges that carry traffic over the Gila River, following required environmental review and clearance.
Also, ADOT is working closely with the Gila River Indian Community and the Maricopa Association of Governments to secure federal funding to add to committed state funding, for work that could be completed as early as 2026.
Indiana Toll Road increases tolls starting July 1
Truck drivers traveling across the Indiana Toll Road will be paying higher rates beginning July 1.
According to the ITR Concession Company, a typical five-axle commercial vehicle will pay 10% more to cross from one end of the toll road to the other, with the fee increasing from $66.31 to $72.88. Rates are calculated based on the number of axles of a vehicle.
The Indiana Toll Road spans about 157 miles between the Ohio Turnpike and Chicago Skyway.
ATA praises Ocean Shipping Reform Act
The American Trucking Associations earlier this week praises the passage of the Ocean Shipping Reform Act of 2022, and urged President Biden to quickly sign the bill aimed at improving efficiency in our supply chain.
"This day has been a long time coming," said ATA President and CEO Chris Spear. "This bill provides important tools to address unjustified and illegal fees collected from American truckers by the ocean shipping cartel – fees that have contributed to the shipping lines raking in $150 billion in profits just last year. Those fees hurt American motor carriers and consumers – helping to drive record inflation.
The House passed the bill 369-42, following passage in the Senate by voice vote on March 31.
"This is the first significant change to ocean shipping regulations in more than two decades – a period of time when the industry has been shaped into a cartel of 10 foreign-owned companies who have exercised a tremendous amount of power over American truckers and consumers," said ATA Intermodal Motor Carrier Conference Director Jonathan Eisen.
ICYMI
Another look at the super rigs at Shell Rotella's SuperRigs show
Two I-5 rest areas in Washington closed this week
Walmart driver wins Indiana Motor Truck Association championship