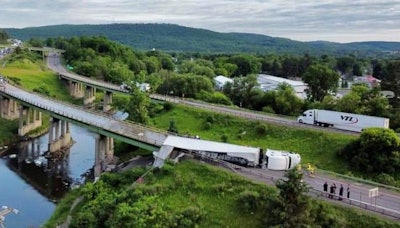 NYS Police
A tractor-trailer driver was charged with driving drunk Wednesday after his truck crashed on Interstate 81 near Cortland, New York south of Syracuse, according to the New York State Police.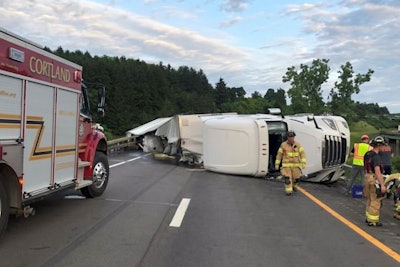 Emergency crews were called to the accident at about 7 p.m. on I-81 northbound between the exits for McGraw and Cortland, according to a statement issued Wednesday night by the troopers.
The driver was charged with driving while intoxicated, troopers said.
No injuries were reported.
Northbound lanes of I-81 between Exits 10 and 11 were closed overnight. One lane reopened Thursday morning.
A Department of New York State Department of Environmental Conservation spill response team was called to the scene.
According to LocalSyr News, 47-year-old Alexandr Gorski was hauling cooking oil and pesticides at the time of crash. The impact broke open the trailer and caused some of the pesticides to leak into the Tioughnioga River.