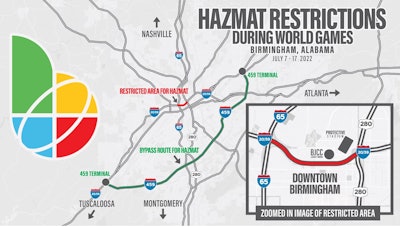 The Alabama Department of Transportation, under a directive from the U.S. Secret Service, will restrict all hazardous material cargo shipments on Interstate 59/20 through downtown Birmingham during the World Games being held July 7-17.
The affected portion of I-59/20 is from I-65 to the east of the E. B. Stephens Freeway (U.S. Highway 31/280). The closure begins Thursday, July 7, and continues through Sunday, July 17. The Alabama Trucking Association said it's been told enforcement will be strict.
ALDOT is already using digital message signs on various interstate routes to alert traffic. Static signs will also be placed in high-traffic areas.
Carriers hauling hazmat cargo must use I-459 to bypass affected areas for pass-through destinations.
The World Games is an 11-day international multi-sport event organized with the support of the International Olympic Committee. An anticipated 3,600 athletes from all over the world will compete. Event organizers and city officials are expecting more than 500,000 spectators will come through the Birmingham area during the event.
With increased crowds and foot traffic underneath the raised portion of I-59/20, the Secret Service has placed a very-high-security level around the event in preparation for the many functions that will happen under or near the interstate bridges that rise over the Birmingham Central Business District, which includes Legacy Arena, Protective Stadium, and the Uptown Entertainment District.