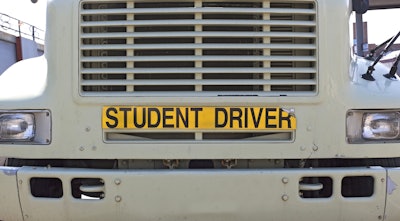 A non-profit organization has awarded a North Carolina community college almost half a million dollars to support a regional truck driver training program.
The Golden LEAF Board of Directors recently awarded Central Carolina Community College $498,924 for training equipment for a regional truck driving and logistics program providing commercial truck driver and short-term logistics courses.
This award is part of a collaborative effort by Central Carolina, Sandhills and Randolph community colleges. The project will serve Chatham, Harnett, Hoke, Lee, Moore, and Randolph counties.
The truck driver training program provides instruction in both theory and practice, including hands-on behind-the-wheel operation of tractor-trailers, preparing students to safely operate tractor-trailer vehicles on the road to and from pickup and delivery points. Emphasis is placed on defensive driving, Federal Motor Carrier Safety regulations, trip planning, cargo handling, vehicle systems, hours of service and accident prevention.
Scholarships are available to support students wishing to pursue this training course.
The Golden LEAF Foundation is a nonprofit organization established in 1999 to receive a portion of North Carolina's funding from the 1998 Master Settlement Agreement with cigarette manufacturers.
Pacific Drayage Services opens Bakersfield facility
Pacific Drayage Services, a member of the IMC Companies family of brands, has opened a new location in Bakersfield, California.
This new, centrally located facility features a paved, lit, fenced yard with 24-hour security-controlled access; room for storage of 100 containers on chassis; and 10,000 square feet of warehousing space complete with six bay doors, enabling PDS to provide transloading services for its customers.
"Our new Bakersfield location is hugely beneficial to our drivers and our customers alike," says Jim Gillis, president of Pacific Drayage Services. "Our drivers can now park their trucks at our secure facility overnight, providing them with local access outside of LAX."
ICYMI
After you take a job, how often do you talk to the recruiter that brought you in?
FMCSA extends hours of service waiver to July 31 for baby formula haulers
Briefly: J.B. Hunt expands by adding containers to its intermodal fleet
Love's opens new store in Arkansas with 114 truck parking spaces