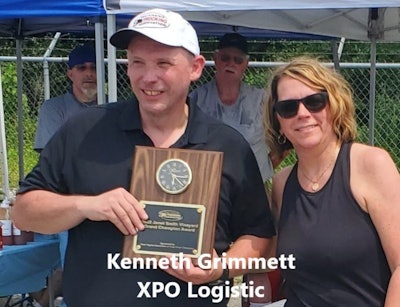 WVTA
The grand champion of the West Virginia Trucking Association's 2022 Truck Driving Championships June 28 was Kenneth Grimmett, a driver for XPO Logistics. He also won the flatbed class in the competition.
Winners of the various categories were:
Straight - Charles Randolph, Pitt Ohio
3-Axle - Larry Gorby, XPO Logistics
4-Axle - Randy Thomas, FedEx Freight
5-Axle Van - Ken Barnett, FedExFreight
Tank - John Gibson, ABF Freight
Flatbed - Kenneth Grimmett, XPO Logistics
Sleeper - Jack Davenport, BPM
Twins - William Adkins, FedEx Freight
Step Van - Brian Ash, FedEx Ground
The winners in each category qualified to compete in the national competition to be held in Indianapolis Aug. 16-19.