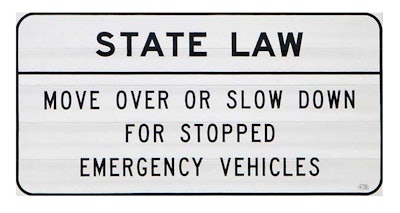 State police in six states are combining their efforts to enforce those states' "move over" laws.
The 6-State Trooper Project's special enforcement effort began Sunday and runs through Saturday, July 23. Troopers from Indiana, Kentucky, Pennsylvania, Ohio, Michigan, and West Virginia are participating.
In general, "mover over" laws require all drivers to move over to an adjacent lane when approaching any vehicle with flashing or rotating lights parked on the roadside. If moving over is not possible due to traffic or weather conditions, or because a second lane does not exist, these laws require motorists to slow down and proceed with caution. All 50 states have such laws on the books.