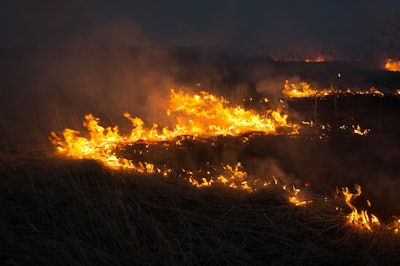 The Federal Motor Carrier Safety Administration's Western Service Center has extended a suspension of the maximum driving time hours of service regulations for truck drivers providing direct assistance to an ongoing wildfire emergency.
As a result of wildfires posing an imminent threat of widespread or severe damage, injury, or loss of life or property in multiple Texas counties, Texas Gov. Greg Abbott originally issued a disaster declaration on March 18. On July 21, the state of Texas requested FMCSA issue an extension of the state emergency declaration and grant emergency regulatory relief from 49 CFR § 395.3.
Because emergency conditions have not abated, FMCSA said it is extending the declaration until the end of the emergency, or through Aug. 22, whichever is earlier. If the emergency continues, FMCSA may extend the declaration again.
The waiver only applies to carriers providing "direct assistance" to wildfire relief, which FMCSA says does not include routine commercial deliveries, including mixed loads with a nominal quantity of qualifying emergency relief added to obtain the benefits of the emergency declaration. Specific commodities covered by the waiver are not mentioned in the declaration.
FMCSA now accepting applications for apprenticeship program
The Safe Driver Apprenticeship Pilot Program opened its application portal for participation today, July 26.
Created as part of the Bipartisan Infrastructure Law, the program, according to the Federal Motor Carrier Safety Administration, "will help individuals between 18–20 explore interstate trucking careers and assist trucking companies in hiring and training new drivers through rigorous training standards – pairing each young driver with an experienced mentor."
For more information, view the FMCSA's SDAP Public Information Webinar that covers training qualifications, participation requirements, and instructions about the application process.
ICYMI
Truckers' views on driver-facing cameras sought by ATRI
92 trucks entered Walcott Jamboree's Beauty Contest; here are the 32 winners
ATRI study: Pay's important to young drivers, but so are other factors